How Green Was My Valley (1941)
Cast | Crew | Awards | Review | Articles | Downloads | Links | Image Credits
| | |
| --- | --- |
| | "There is no fence or hedge around time that has gone. You can go back and have what you like if you remember it well enough." -- from Richard Llewellyn's How Green Was My Valley. |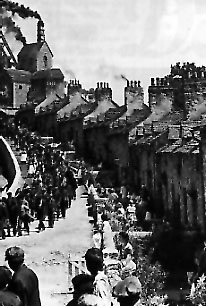 Ford wanted to film HOW GREEN WAS MY VALLEY in its natural setting, Wales, but World War II ruled out this possibility. Instead, he built a replica of a Welsh mining town in an area of the Santa Monica Mountains known as Brent's Crag (renamed Century Ranch when the Twentieth-Century Fox bought the property in 1946). The effects are magnificent, and one of the film's five Oscars went to Richard Day, Nathan Juran and Thomas Little for their Art/ Set Decoration. It is said that over 150 workman labored six months to build the village set, and though it no longer stands, the area itself is now part of Malibu Creek State Park.
Memorable Quotations:
"Nature is the handmaiden of the Lord." --Mr. Gruffydd.
"My business is anything that comes between men and the Spirit of God." –-Mr. Gruffydd.
"Very well then. Here is what I think: first, have your union. You need it. Alone you are weak. Together you are strong. But remember that with strength goes responsibility to others and yourselves, for you cannot conquer injustice with more injustice -– only with justice, and the help of God." –-Mr. Gruffydd.
"As your father cleans his lamp to have good light, so keep clean your spirit... By prayer, Huw. And by prayer I don't mean shouting and mumbling and wallowing like a hog in religious sentiment. Prayer is only another name for good, clean, direct thinking. When you pray, think. Think well what you're saying. Make your thoughts into things that are solid. And that way your prayer will have strength. And that strength will become a part of you -– body, mind and spirit." –-Mr. Gruffydd.
"Men like my father cannot die. They are with me still, real in memory as they were in flesh, loving and beloved forever. How green was my valley then." -–Narrator.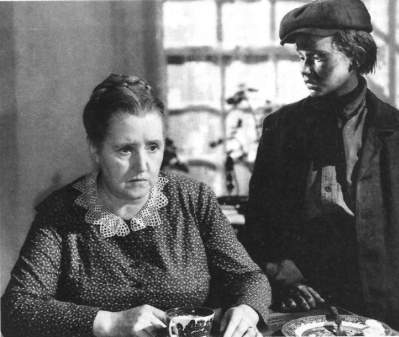 Though the twelve-year-old had already appeared in a score of movies, Roddy McDowall came into his own as young Huw Morgan in HOW GREEN WAS MY VALLEY. Shown here in a still with Sara Allgood as Mrs. Beth Morgan (a role for which she earned a Best Supporting Actress nomination), it is through young Huw's eyes that we observe the deterioration of the Welsh mining town and the Morgan family, as well as the efforts of one local preacher, Mr. Gruffydd (Walter Pidgeon), to hold them all together.