Elizabeth Taylor
Filmography | Awards | Bibliography | Gallery | News | Downloads | Links | Image Credits | Her Address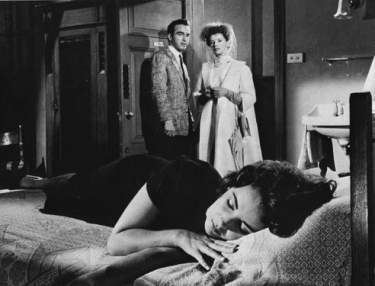 Another Tennessee Williams adaptation, SUDDENLY, LAST SUMMER (1959), is the complicated and confusing but well-acted story of a Southern matriarch (Katharine Hepburn, right) who believes her young niece (played by Taylor) is mad and wants neurosurgeon Montgomery Clift (right) to perform a lobotomy on her.

Directed by Joseph L. Mankiewicz, the film earned Oscar nominations for both Hepburn and Taylor in the Best Actress category, but both lost to Simone Signoret
and her performance in ROOM AT THE TOP (1959).
Even More Memorable Quotations:
"Isn't that what love is -- using people? And maybe that's what hate is -- not being able to use people." --as Catherine Holly in SUDDENLY, LAST SUMMER (1959).
"Don't worry, doctor. Since I've been allowed to smoke, I've been a perfect lamb." --as Catherine Holly in SUDDENLY, LAST SUMMER (1959).
"It's terrible, isn't it Steve? I say 'yes' too much when I shouldn't, and you say 'no' too much when you shouldn't." --as Gloria Wandrous in BUTTERFIELD 8.
"I'm not like anyone. I'm me." --as Gloria Wandrous in BUTTERFIELD 8.
"The way to prevent war is to be ready for it!" --as Cleopatra in CLEOPATRA.
"Poor Georgie Porgie put-upon pie." --as Martha in WHO'S AFRAID OF VIRGINIA WOOLF? (1966) (a .WAV file).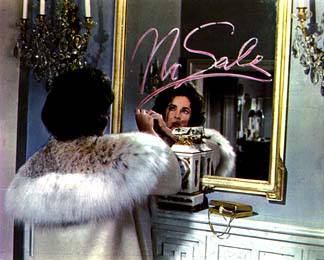 After being nominated three years in a row and coming up short, Elizabeth finally won her first Best Actress Oscar in 1960 for her performance as high-class call girl Gloria Wandrous in BUTTERFIELD 8, a film Taylor had adamantly avoided making. Although some heavy moralizing takes away from the story and the performances of the supporting characters aren't always up to par, this is definitely a memorable Elizabeth Taylor role.

Taylor always regarded this Oscar as a sympathy tribute however, winning it, as she did, just months after a near-fatal battle with pneumonia.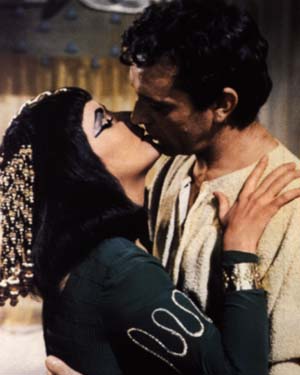 One of the most expensive films ever made and originally running at six hours before being cut to a little over four for release, the epic CLEOPATRA (1963) was a box office disaster, yet managed eight Oscar nominations including Best Picture, winning four technical awards. Today the film is best remembered for the on-screen romance between Cleopatra and Marc Antony which lead to a highly publicized off-screen romance between Taylor and co-star Richard Burton, as well as Taylor's landmark $1,000,000 salary for the film -- a first for a Hollywood actress.
Music Clip:

"Main Title" (clip) from CLEOPATRA (1963) by Alex North (a .MP3 file).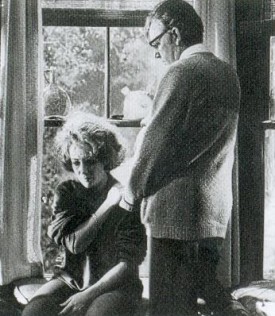 In 1966 Taylor earned her second Best Actress Oscar for her role as a middle-aged, alcoholic house wife in the film adaptation of Edward Albee's WHO'S AFRAID OF VIRGINIA WOOLF? Co-starring Richard Burton, George Segal and Sandy Dennis, this hard-hitting drama helped bury the Hollywood Production Code, earning 13 Academy Award nominations despite its use of such contraband words as "bastard" and "God-damned."

"Main Title" (clip) by Alex North (a .MP3 file).
(For help opening any of the multimedia files, visit the plug-ins page.)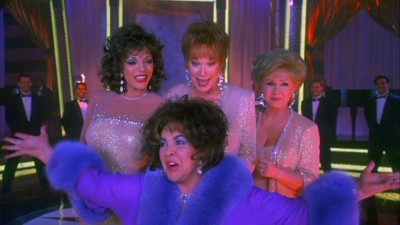 In one of her final screen appearances, the made-for-TV movie THESE OLD BROADS (2001 TV), Taylor played the manager of three aging, quarrelsome movie musical stars reunited for a TV special celebrating one of their old films. Starring fellow Hollywood veterans Debbie Reynolds, Shirley MacLaine and Joan Collins, the script for the comedy was written by Reynolds' daughter Carrie Fisher who based it on the real-life exploits of Reynolds, MacLaine, Collins and Taylor, including references to Taylor having stolen Reynolds' husband Eddie Fisher after the death of her own husband, producer Mike Todd, in a plane crash in 1958.
Though entertaining for classic film buffs familiar with the real-life stories behind the film's references, the juxtaposition of this nostalgia with more modern and somewhat raunchy humor resulted in an off-color comedy which its stars probably enjoyed making more than their loyal fans enjoyed watching. Nevertheless, Taylor played her over-the-top supporting character true to form, dressed to the nines and raucously chewing the scenery as required.
Page 1 | Page 2 | Page 3 | Page 4 | Page 5
Filmography | Awards | Bibliography | Gallery | News | Downloads
Links | Image Credits | Her Address