Elizabeth Taylor
Filmography | Awards | Bibliography | Gallery | News | Downloads | Links | Image Credits | Her Address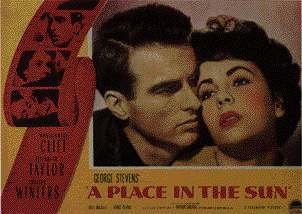 Although not released until 1951, George Stevens' A PLACE IN THE SUN, the film adaptation of Theodore Dreiser's novel An American Tragedy, was filmed in 1949 when Taylor was still seventeen years old, and marked her first adult role. Cast opposite stage acting veteran Montgomery Clift (who was twelve years her senior), Taylor and her leading man were very favorably photographed in this film and made quite a handsome pair.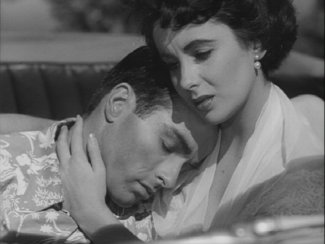 But more than just showing off her pretty face, A PLACE IN THE SUN became an acting landmark in Taylor's career as her best performance since NATIONAL VELVET. And the film itself was also a critical success, earning nominations for nine Academy Awards including Best Picture and taking home six statuettes.
Music Clip from A PLACE IN THE SUN (1951):
"Suite" (clip) by Franz Waxman (a .MP3 file).
(For help opening the above file, visit the plug-ins page.)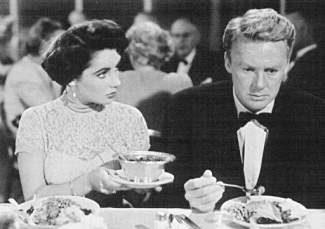 Back to MGM's light young-adult fare, Taylor played amateur psychologist to returning veteran Van Johnson who suffers from "liquor recall" in THE BIG HANGOVER (1950). Although the set-up is obviously comic, this film also has a more serious side, addressing racism against Chinese-Americans.
More Memorable Quotations:
"Tell Mamma. Tell Mamma all." --as Angela Vickers in A PLACE IN THE SUN.
"I'm always late. It's part of my charm." -- as Angela Vickers in A PLACE IN THE SUN.
"Why all alone? Being exclusive?... Being dramatic?... Being blue?" -- as Angela Vickers in A PLACE IN THE SUN.
"Every time you leave me for a minute, it's like goodbye. I like to think it means you can't live without me." -- as Angela Vickers in A PLACE IN THE SUN.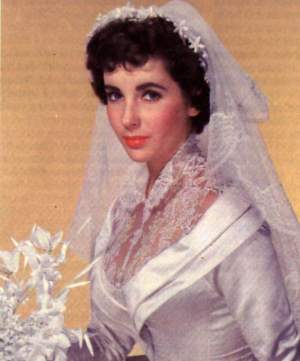 At a mature eighteen years-old, Taylor's movie star life and real life coincided when, shortly before her own marriage to Nicky Hilton, she starred as Spencer Tracy's bride-to-be daughter Kay Banks in FATHER OF THE BRIDE (1950). Although more an amusing look at status conscious parents and post-war consumerism in the 1950s than a romance, Taylor nonetheless shines in a few key moments, defending her fiancé against the criticisms of her father, and radiates with young womanhood.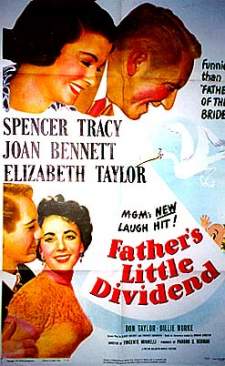 A poster from the sequel to FATHER OF THE BRIDE, entitled FATHER'S LITTLE DIVIDEND (1951), in which Tracy and Joan Bennett reprise their roles as parents of Taylor, now a mother-to-be. No parallels with real life this time, but Taylor still manages a few moving moments in this (again) mostly comic battle of the in-laws.
Go to the next page.
Page 1 | Page 2 | Page 3 | Page 4 | Page 5