Katharine Hepburn
Filmography | Awards | Article | Downloads | Links | Image Credits | THE AFRICAN QUEEN | THE PHILADELPHIA STORY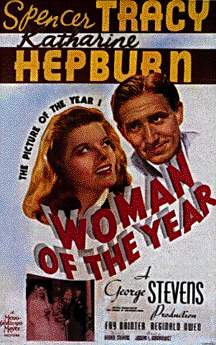 In 1942, Hepburn launched the third great professional partnership of her career when she appeared with actor Spencer Tracy in MGM's battle-of-the-sexes romantic comedy, WOMAN OF THE YEAR, directed by her ALICE ADAMS director George Stevens. Hepburn earned yet another Oscar nomination for her performance as Tess Harding, an international political columnist who butts heads with sports writer Tracy at the same newspaper. The Hepburn-Tracy pairing proved so successful in WOMAN OF THE YEAR that the couple went on to make a total of nine films together over the next 25 years, the most successful of them being the romantic comedies in which Hepburn's independence both attracts and annoys Tracy in a series of often-madcap adventures.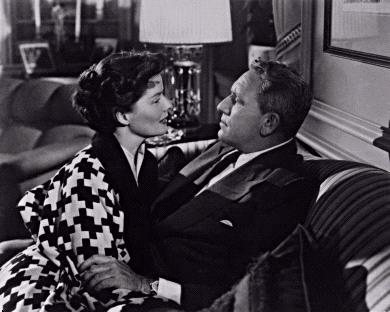 In ADAM'S RIB (1949), Hepburn and Tracy play Amanda and Adam Bonner, married lawyers who end up on opposite sides of an attempted murder trial involving a woman who shot her philandering husband. As advertised, "It's the hilarious answer to who wears the pants!"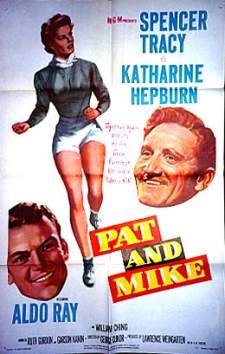 PAT AND MIKE (1952), Hepburn and Tracy's seventh film together, was written for them by Ruth Gordon and Garson Kanin and was designed to showcase Hepburn's natural athletic abilities. In the role of a professional athlete, she plays tennis with Don Budge and golf against Babe Didrikson Zaharias, among other notable professionals of the day. Tracy plays her manager, determined to keep her on the straight and narrow training path and away from her boyfriend (William Ching) whose presence causes her to lose confidence in herself and fall apart in competition.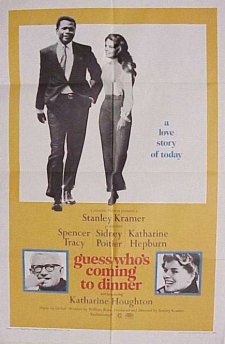 In their final film together, Stanley Kramer's GUESS WHO'S COMING TO DINNER (1967), Hepburn and Tracy play a middle-aged couple whose grown daughter (played by Hepburn's niece Katharine Hougton) announces she is going to marry a black man (played by Sidney Poitier). Though ground-breaking in many aspects of its approach to the issue of interracial marriage, the film is probably the most dated of the Hepburn-Tracy pairings, but nevertheless features outstanding performances from each, lending both their prestige and their talents to the making of this film. Tracy died shortly after shooting wrapped. Nominated for ten Academy Awards including Best Picture, GUESS WHO'S COMING TO DINNER earned Hepburn her second Best Actress Oscar. As was her custom, she did not attend the ceremony, and George Cukor accepted the award on her behalf.
Go to the next page.
Page 1 | Page 2 | Page 3 | Page 4 | Page 5