Grace Kelly
Page 2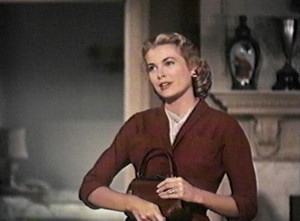 With the all-important handbag in DIAL 'M' FOR MURDER (1954).


A still and poster from TO CATCH A THIEF (1955) with Cary Grant.
Posters from DIAL 'M' FOR MURDER and REAR WINDOW.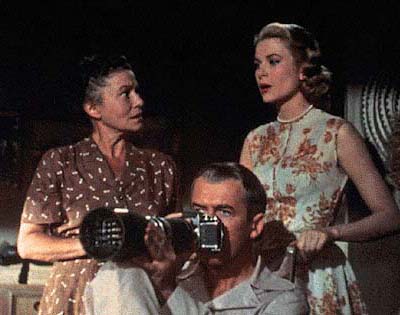 With Thelma Ritter and Jimmy Stewart in REAR WINDOW (1954).
Further Reading:
Grace by Robert Lacey (New York: G.P. Putnam's Sons, c1994).
About Grace : an intimate notebook by Jeannie Sakol and Caroline Latham (Chicago : Contemporary Books, c1993).
Grace by Howell Conant (New York: Random House, c1992).
Princess Grace by Sarah Bradford (London: Weidenfeld and Nicolson, 1984).
Grace, the story of a princess by Phyllida Hart-Davis (New York: St. Martin's Press, c1982).
The Golden Girls of MGM by Jane Ellen Wayne (New York: Carroll & Graf, 2003).
The Hollywood Beauties by James Robert Parish (New Rochelle, NY: Arlington House, 1978).
Lovers: great romances of our time through the eyes of legendary writers by John Miller and Aaron Kenedi (Boston: Little, Brown & Co., 1999).
Grace Kelly Related Links:
Links to pages about Grace Kelly's movies: