Ginger Rogers and Fred Astaire
Filmography | Lyrics | Articles | Awards | Downloads | Bibliography | Goofs | Statistics | Rankings | Links | Image Credits | Ginger Rogers | Fred Astaire
ROBERTA (1935)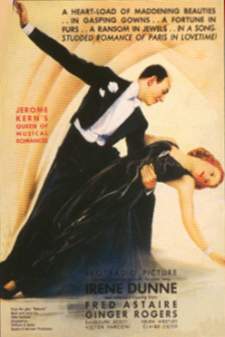 A Heart-load of Maddening Beauties... in Gasping Gowns... a Fortune in Furs... a Ransom in Jewels... in a Song-Studded Romance of Paris in Lovetime!
Studio: RKO
Director: William A. Seiter
Choreographer: Fred Astaire
Music by: Dorothy Fields and Jerome Kern.
Cast including: Irene Dunne, Randolph Scott, Helen Westley, Claire Dodd, Lucille Ball.
Musical Numbers including:

"Indiana" hummed by the band;
"Let's Begin" sung and danced by Fred and Candy Candido, also danced by Gene Sheldon;
"Russian Lullaby" sung by Irene Dunne;
"I'll Be Hard To Handle" sung by Ginger, danced by Ginger and Fred;
"Yesterdays" sung by Irene Dunne;
"I Won't Dance" sung by Ginger and Fred, danced by Fred;
"Smoke Gets in Your Eyes" sung by Irene Dunne (reprise danced by Ginger and Fred);
"Lovely to Look At" sung by Irene Dunne, Fred and Ginger.

Lyrics: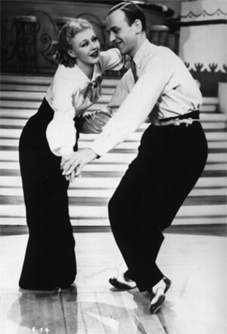 "I'll be hard to handle. What else can I be? Just ask my dad the trouble he had controlling me," sings Countess Scharwenka to her old boyfriend Huck Haines. (Note Ginger in pants -- the first of this fashion occurrence.)
Ginger and Fred were back to being second leads in their third film, ROBERTA (1935), sharing billing with Irene Dunne. As with FLYING DOWN TO RIO, the plot is somewhat contrived and soon seems repetitious, but this time Ginger and Fred almost profit from their second-lead status because they are not responsible for keeping the story moving and simply become a side showcase of, well, themselves. Set in Paris, Fred plays Huck Haines, band leader of The Wabash Indianians who, in need of a gig, gets a helping hand from his old girlfriend from Indiana, Lizzie Gatz (Ginger), who happens to be posing as a Polish noblewoman, Countess Scharwenka ("because you have to have a title to croon over here"), and singing at the Café Russe. Did you get all that?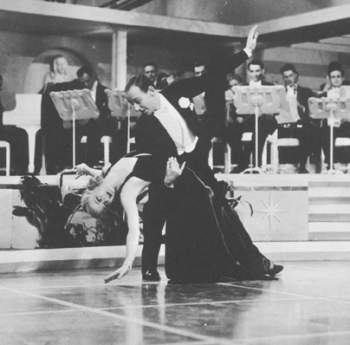 When your heart's on fire, "Smoke Gets In Your Eyes."
The rest of the plot is pretty forgetful, involving a football player friend of Huck's (Randolph Scott) whose aunt is a Parisian fashion designer and who falls in love with her assistant, Stephanie (played by Irene Dunne), who's actually a Russian princess. It's as far-fetched as it sounds, but the film does have its memorable musical moments. "I'll Be Hard To Handle" is a great battle-of-the-sexes tap contest which appears amazingly spontaneous. And watch Ginger dip and dip and dip as gracefully as a wilting flower while dancing with Fred to "Smoke Gets In Your Eyes" after Dunne sings it (

). There is also the "I Won't Dance" duet in which Fred refuses Ginger (looking as alluring as ever in a very low, gold lamé gown) because he's afraid of what might happen to him on the dance floor. After all, he's "not asbestos." (It took four lyricists to come up with that one.) He does dance however, a solo to the song and one of the most crackling tap solos of his career.
Although ROBERTA has its bright spots, there is a lot of mucky plot to wade through in order to get to them. The storyline is terribly contrived, and the comedy (what there is of it) is weak at best. To make matters worse, although Irene Dunne has a nice soprano voice, the sound recording technology of the time was not up to the challenge of faithfully registering the highest notes of her range, resulting in three solos, certain moments of which can be hard on the ears. (I would love to hear what an audio restoration could do for this film.) Overall, this is a Rogers-Astaire vehicle with hints of the triumphs to come, but which also evidences that the series had not yet hit its stride.
Go to the next page.
Main Page | 1 | 2 | 3 | 4 | 5 | 6 | 7 | 8 | 9 | 10