The Pride of the Yankees (1942)
Cast | Crew | Awards | Articles | Bibliography | Downloads | Links | Image Credits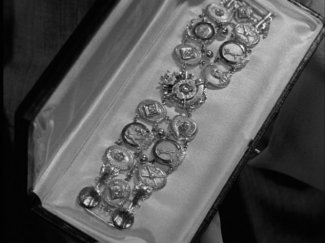 In addition to the presence of a few of Gehrig's fellow Yankees and the use of some actual American League crowd footage, the authenticity of THE PRIDE OF THE YANKEES is further augmented by a few props donated to the production by Mrs. Eleanor Gehrig. Among them was the bracelet at left, made up of Lou's many championship pins and medals and given to Eleanor by her husband.

Closely guarded during filming, the bracelet was locked up in a safe at the Goldwyn Studios every night and was returned to Mrs. Gehrig when production on the film wrapped. It now resides at the Baseball Hall of Fame in Cooperstown, New York.

Except for a few "pure Hollywood" episodes, THE PRIDE OF THE YANKEES is a relatively accurate account of Lou Gehrig's life. He did grow up in New York as the only surviving child of German-immigrant parents, and his relationship with Mom and Pop Gehrig (including his devotion to his mother, her job as a cook at Columbia University, her desire for him to be an engineer, and the illness which prompted him to leave college and sign with the Yankees) existed very much as it is portrayed in the film. Eleanor was an outgoing Chicago socialite when she met Lou in 1931 (although he was already a Yankees veteran, not a "tanglefoot" rookie), and her relationship with Lou's mother was a contentious one. As in the film, Lou and Eleanor were married in 1933 on the spur of the moment amidst workers performing renovations on their new apartment and then were quickly whisked away to Yankee Stadium by a police escort. Unlike the screen version however, Mom Gehrig was not present at the event. Other inventions of the screenwriters included Lou's homeruns "for little Billy in the hospital." (Although Gehrig did hit the homeruns, the "Billy" character was a composite representation of Gehrig's inspiration to young boys.) Also, the dramatic end to Gehrig's historic streak was not announced over the public address system and was a decision Gehrig had made and informed manager Joe McCarthy about before the game started. Lastly, Lou's famous "Luckiest Man" Speech was edited for the film.
More about Lou Gehrig:
Gehrig played for the New York Yankees from 1924 until his illness forced him to retire in 1939. That same year, he was elected to the Baseball Hall of Fame. During Gehrig's tenure with the Yankees, the team won seven World Series titles -- in 1927, 1928, 1932, 1936, 1937, 1938 and 1939.
Gehrig's record for the number of consecutive games played by a professional baseball player (2,130 -- which stood until it was broken by Cal Ripken, Jr. on September 6, 1995) earned him the nicknamed "The Iron Horse."
He led the American League in runs batted in five times (1927, 1928, 1930, 1931, 1934) and broke the league record in 1931 with 184 RBIs.
Gehrig was voted the league's most valuable player in 1927 and 1936, and retired with a lifetime batting average of .340.
His jersey (number 4) was retired by the Yankees in 1939 -- marking the first time that gesture was ever used to honor an athlete.
Amyotrophic Lateral Sclerosis is a disease resulting in muscular atrophy and eventual total paralysis caused by degeneration of motor neurons of the spinal cord and brain stem. Typically, symptoms appear in middle to late adulthood and death usually ensues within two to five years. The cause is unknown, and there is no cure.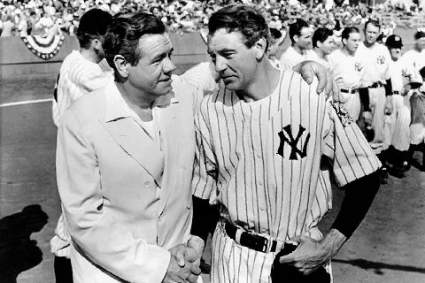 Babe Ruth puts his arm around Lou (Gary Cooper) in the film just as he did in reality on Lou Gehrig Appreciation Day at Yankee Stadium in 1939.
Page 1 | Page 2 | Page 3
Cast | Crew | Awards | Articles | Bibliography | Downloads | Links | Image Credits