The Little Foxes (1941)
Cast | Crew | Awards | Articles | Screen Caps Gallery | Bibliography | Links | Image Credits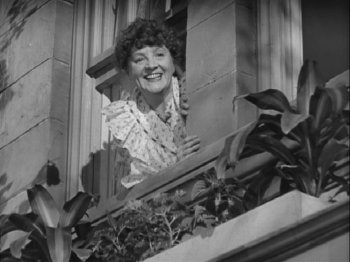 The most sympathetic character in the film is Aunt Birdie, the southern aristocrat whom Oscar Hubbard married for her cotton land and who has been abused by him and his family ever since. Patricia Collinge reprised her stage role for this, her film debut, and earned an Academy Award nomination as Best Supporting Actress for her performance -- the best in the film.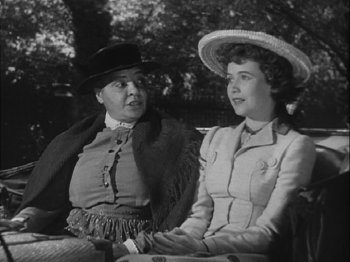 Regina's daughter Alexandra (Teresa Wright, with Jessie Grayson at right) also represents the future of the Hubbard-Giddens family, but whereas Leo has already been corrupted, Zanny's character is still evolving and serves as the forum in which her mother's selfishness and haughtiness vies to dominate her father's gentle nature and loving consideration for others.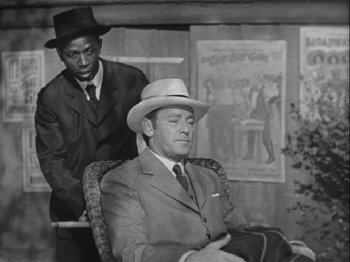 Like his sister-in-law Birdie, Horace Giddens was married for his money. Despite his love for his daughter, he has been living in Baltimore because of heart trouble (worsened by Regina's abuses) and returns when Regina declares that she wants him to come home. He thinks she wants to make up with him, but soon finds out about the mill, refusing to participate.

Herbert Marshall, who plays Horace Giddens, was a Hollywood veteran with almost three-dozen films to his credit when he made THE LITTLE FOXES and had played Bette Davis' dominated husband the year before in Wyler's THE LETTER (1940). John Marriott (pushing Marshall's wheelchair above) came from the Broadway cast and plays Cal, the Giddens' ignorant but eager-to-please house servant.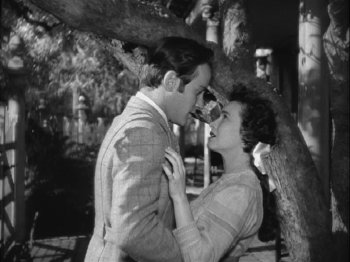 Although the narrative point-of-view in THE LITTLE FOXES is omniscient, the character of David Hewitt (a local newspaper reporter and Zanny's love interest, played by Hollywood actor Richard Carlson) was added to the film and serves as a sort of moral commentator on the characters and developing conflicts in the storyline.

In turn, the addition of the David character allowed a strengthening of Alexandra's character as it transitioned from stage to screen and provided a vehicle for a few much-needed moments of levity in the film as well. David further serves as a conduit between the world of the Hubbard-Giddens family and that of their black servants, thus providing opportunities for Cal, Addie and Belle to demonstrate some depth of character in scenes on their own. The expansions and changes in the story's structure made when adapting the play to the screen led THE LITTLE FOXES' playwright and screenwriter, Lillian Hellman, to comment that "most of The Little Foxes, a good fifty percent, is done better in the picture than it ever was in the play."(*3)
Footnotes:
Page 1 | Page 2
Cast | Crew | Awards | Articles | Screen Caps Gallery
Bibliography | Links | Image Credits