Angela Lansbury
Filmography | Awards | Downloads | Links | Image Credits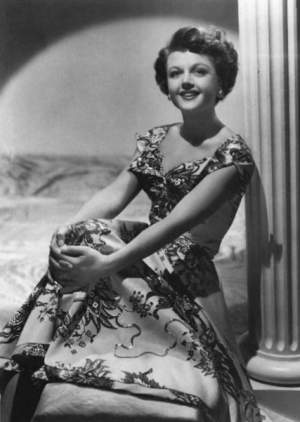 Though today she's best known as Jessica Fletcher, the mystery author and amateur sleuth in "Murder, She Wrote," and her stage successes are no secret either, Angela Lansbury has also distinguished herself on the silver screen, having been nominated three times for Best Supporting Actress Oscars.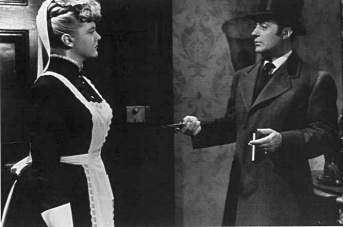 With Charles Boyer in her film debut, GASLIGHT (1944)

, in which Angela played the maid, Nancy. This suspense- filled film, also featuring Ingrid Bergman, Joseph Cotten and Dame May Whitty, about a man who slowly convinces his wife that she's losing her mind, was nominated for seven Academy Awards including Best Picture and a Best Supporting Actress nomination for Angela.
Memorable Quotations:
"As my father used to say, 'Life is war. Don't count the casualties.'" --as Kay Thorndyke in STATE OF THE UNION (1948).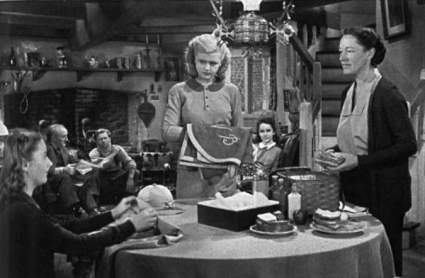 Lansbury (center) had a small role as Elizabeth Taylor's love-struck older sister in MGM's 1944 family classic NATIONAL VELVET, also starring (left to right) Juanita Quigley, Donald Crisp, Mickey Rooney, Taylor and Anne Revere.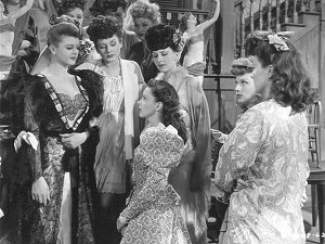 Angela as Em, the leader of the Alhambra saloon girls, in confrontation with Judy Garland, a goody-goody waitress, in MGM's musical spectacular THE HARVEY GIRLS (1946). (Angela's musical number "Oh, You Kids" was dubbed by Virginia Reece, however.) Also appearing in this film are Ray Bolger, John Hodiak, and Marjorie Main.