Ronald Reagan
Filmography | News | Downloads | Links | Image Credits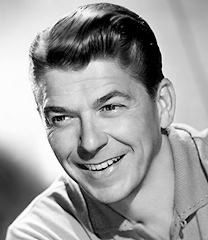 Before he became the 40th president of the United States of America or even governor of California, Ronald Reagan was a veteran Hollywood actor who, though he played mostly in Warner Bros.' B-films, still made several memorable movies in the 1930's, '40s and '50s. He was never nominated for any Academy Awards, but had the honor of serving as president of the Screen Actors' Guild, a precursor to his political career.
Memorable Quotations:
"Alright. I know. I'm always wrong. I always have been, ever since I can remember." --as Drake McHugh in KINGS ROW (1942).
"Where's the rest of me?!" --as Drake McHugh in KINGS ROW (1942).
"I don't know what there is about the pelts of dead little animals that makes 'em so attractive to women, when one little mouse scares 'em silly." --as Professor John Palmer in SHE'S WORKING HER WAY THROUGH COLLEGE (1952).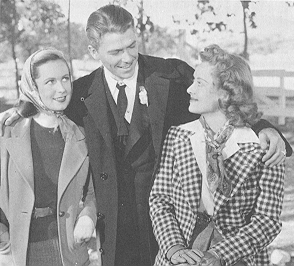 Reagan playing a supporting role as the carefree playboy in one of his early films, DARK VICTORY (1939) starring Bette Davis and Geraldine Fitzgerald (both with Reagan at right) as well as Humphrey Bogart, George Brent and Henry Travers. This drama about a terminally ill woman was nominated for three Oscars including Best Picture.

"Dark Victory" (clip) by Max Steiner (a .MP3 file).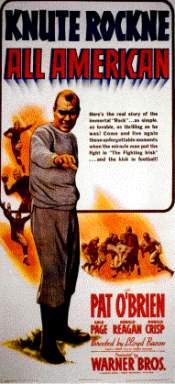 A poster from the first of Reagan's two most famous films and the one that introduced "The Gipper" persona he later used in his political career, KNUTE ROCKNE -- ALL AMERICAN (1940). This football biopic about Notre Dame's famous coach of the 1910s and '20s features Reagan as Rockne's standout player George Gipp (aka "The Gipper"). Honored with inclusion on the Library of Congress' National Film Registry, KNUTE ROCKNE premiered in the Fighting Irish's hometown of South Bend, Indiana on October 4, 1940 and stars Pat O'Brien and Donald Crisp.
"Now I'm going to tell you something I've kept to myself for years. None of you ever knew George Gipp. He was long before your time, but you all know what a tradition he is at Notre Dame. And the last thing he said to me, 'Rock,' he said, 'sometime when the team is up against it and the breaks are beating the boys, tell them to go out there with all they've got and win just one for the Gipper. I don't know where I'll be then, Rock,' he said, 'but I'll know about it and I'll be happy.' " --Pat O'Brien as Knute Rockne attributing a quote to Ronald Reagan as George Gipp in KNUTE ROCKNE, ALL AMERICAN (1940).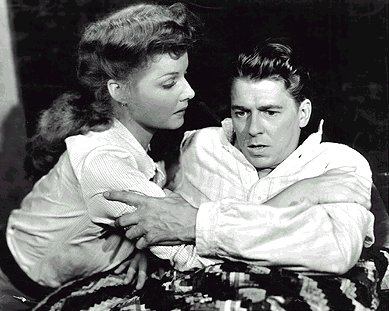 A still with Ann Sheridan from the film Reagan always considered his best, KINGS ROW (1942). Directed by Sam Wood and based on the Henry Bellamann novel, this drama featured Reagan as Drake McHugh, best friend of the protagonist Parris Mitchell (Robert Cummings) and a carefree charmer who eventually loses both legs in a rail yard accident.
KINGS ROW earned Oscar nominations in the Best Picture, Best Director and Best Cinematography categories and featured such noteworthy cast members as Claude Rains, Judith Anderson, Harry Davenport, Charles Coburn and Minor Watson.
Music Clip from KINGS ROW:
"Main Title" (clip) by Erich Wolfgang Korngold (a .MP3 file).
(For help opening any of the above files, visit the plug-ins page.)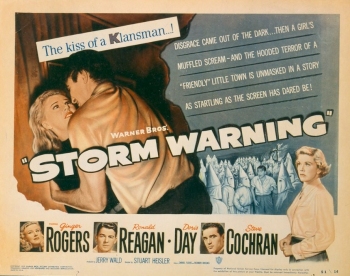 A lobby card from STORM WARNING (1951), a drama in which Reagan plays a District Attorney trying some Klansmen for a murder. The film also stars Doris Day, Ginger Rogers and Steve Cochran.