Ginger Rogers
Biography | Filmography | Awards | Articles | Bibliography | Gallery | Downloads | Links | Image Credits | Screen Teams: Ginger Rogers & Fred Astaire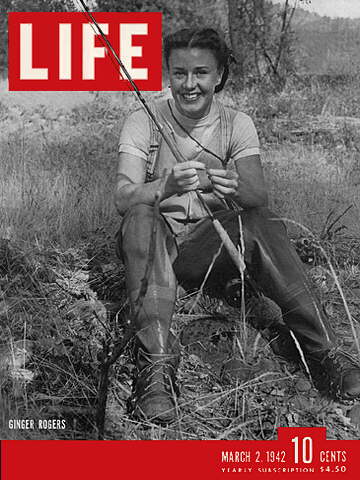 Ginger Rogers: She Adds New Chapter to Her Success Story
LIFE Magazine March 2, 1942 pages 60-68
CAPTIONS:
For old times sake Ginger wears a dress her mother made for her when she appeared at a St. Louis vaudeville theater 14 years ago. The dress still fits.
In "Roxie Hart" Ginger enjoys a comic field day as a 1926 floozy innocently involved in a famous Chicago murder scandal. Entirely different from the usual Rogers vehicle, it give her a chance to do some fine farcical acting and old-style dancing, Roxie Hart is based on a 1927 stage hit, Chicago, by Maurine Watkins.
Between these two portraits of Ginger Rogers (left and right) hangs the story of her career. At left is Ginger as she looked at 17 dancing in vaudeville. At right she stands in her full stature as a star in Roxie Hart, her newest movie.
Though Roxie Hart is a clowning interlude in Rogers' progress, it is definitely a milestone. For Roxie is not a struggling working girl. In her past seven non-dancing movies, Ginger has struggled respectfully as a stenographer, a salesgirl of toys, a job hunter, a soda jerker, a bookseller, a secretary, and a telephone girl. In Kitty Foyle she struggled with such authority that she became the official symbol of a new American class, the White Collar Girl.
Ginger has become an American favorite-- as American as apple pie-- because Americans can identify with her. She could easily be the girl who lives across the street. She is not uncomfortably beautiful. She is just beautiful enough. She is not an affront to other women. She gives them hope that they can be like her. She can wisecrack from the side of her mouth, but she is clearly an idealist. Her green eyes shine with self-reliance. She believes in God and love and a hard day's work. She is a living affirmation of the holiest American legend: the success story. Now in Roxie Hart, Ginger plays a flighty young woman who pretends she committed a murder simply for the publicity. Her only struggle is to keep her knees temptingly exposed to the jury.
At 31, Ginger is regarded as "a terrific property" in Hollywood because she has earned more than $1,000,000 for herself and far more for her employers. So her new contract with RKO is full of special privileges. She can make movies with any company she pleases and chose her own scripts. Roxie Hart was her first choice.
In her next movie, Tales of Manhattan, she plays a debutante. In The Major and the Minor she will play a working girl in disguise. In Lady in the Dark she will be a high-strung editor of a fashion magazine. In broadening her range of parts, Ginger knows now she is gambling with success. But throughout her life, she has been at her best when she is on her mettle.
Ginger started the hard way. After four years of trouping in vaudeville, with her mother as manager and chaperon, Ginger decided she was ready for Broadway in 1929. There, in the Gershwin musical Girl Crazy, Ginger played 45 weeks and made her first five movies in her spare time. With a weekly income of some $1,500, Ginger at 19 was the highest-paid working girl of her age in the U.S.
In Hollywood her career struck the doldrums, relieved by bright moments in Gold Diggers and 42nd Street. Not until she was really on her mettle as Fred Astaire's dancing partner in Flying Down to Rio (1933) did she begin to blossom. Rehearsing sometimes for 18 hours straight, Ginger often left the studio at night with her feet bleeding. For three years she and Astaire were a top box-office attraction, creating a series of musical movies which for fun and polish are unique in motion-picture history. At this period Ginger was married to Lew Ayres. They were separated and later divorced in 1941, due to a clash of professional temperaments.
Again Ginger was on her mettle when she decided to break away from dancing. Co-starred with Katharine Hepburn in Stage Door, Ginger was firmly determined to excel as a dramatic actress, and she did. She clinched her success in Kitty Foyle, Primrose Path and by her deft portrait of a moon-struck girl in Tom, Dick and Harry.
But the best guarantee of Ginger's future is her past. It is a peculiarly American past that lies behind so may tales of achievement. With LIFE's Cameraman Bob Landry, Ginger recently retraced the scenes of her childhood. She went back to Texas and Kansas City, and discovered the homes of her ancestors in the historic little town of Arrow Rock, Mo. This picture biography begins on the following page.
Born in Independence, She Grew Up in Kansas City
CAPTIONS:
At 6 months Ginger poses prettily with her mother, who was the daughter of a Kansas City contractor. She was Lela Owens before her marriage.
At one year Ginger poses with her father, Eddins McMath, who kidnapped her twice after he was separated from her mother in 1913.
At 18 months Ginger shows a definite talent for beaming into a camera. At this time, with her parents, she lived briefly in Ennis, Texas.
At 5 years Ginger was serious-minded, poised. She was them living with her mother's parents, the Owens', in Kansas City (bottom of page).
Ginger returns to her birthplace in Independence, Mo. for the first time since she left it as a baby a few weeks old. Independence is about 12 miles east of Kansas City.
The house where Ginger was born is at 100 Moore St. Her birthday is July 16, 1911. Ginger's mother came alone to Independence to work on a newspaper, was rejoined here later by her husband, who was an electrical engineer.
The room where Ginger was born is 9 ft. by 9 ft. She was christened Virginia Katherine McMath and first called Ginger by a baby cousin who couldn't pronounce Virginia.
Her grandparents' home in Kansas City was also hers while her mother supported her for two years as a Hollywood movie writer. House is now owned by the McGilleys.
This was Ginger's bedroom in her grandparents' house. She looks out the window where she used to shout to the Jakobe girls who lived across the street. Ginger's grandfather, Walter Owens, now lives near her in Hollywood.
"The Pout Room" under the eaves in her grandparents' attic is where Ginger used to retire to enjoy her blues. She emerges from it now, unable to work up a good pout.
"Did I really look like that?" exclaim Ginger and her mother (center) discovering old photographs at home of Mary and Matthew Owens of Kansas City. The Owens' were brother and sister of Ginger's grandfather: They came from Wales.
Ginger swings with Matt Powers on the front porch of her great-aunt and great-uncle Owens in Kansas City. Ginger hadn't seen Matt since he was the baby she used to dandle on her knee. Ginger herself was pretty small then. Matt is now 25.
Where she went to kindergarten at Benton School in Kansas City, Ginger meets her old principal, J.M. Cottingham, and poses with him for the school camera club. As a pupil Ginger's Health and Deportment were always reported "good."
Ginger meets a childhood friend, Frances Jakobe, who lived across the street from her. Still living in Kansas City, Frances is now Mrs. John Lee, mother of three, including Jackie in her lap, Joan in the corner. Jackie and Ginger exchanged pleasant noises. Below: Ginger reads her great-uncle Owens' family Bible.
Her Family Ancestors Came From Arrow Rock
On her father's side Ginger's ancestors in pre-Civil War days were leading citizens of Arrow Rock, Mo., 85 miles east of Kansas City. Here her great-great-great-grandfather, Dr. John Sappington, raised five handsome daughters who married Missouri Governors with remarkable regularity.
Lavinia Sappington led off my marrying Governor Meredith Marmaduke. Then her sister Jane married Governor Claiborn Jackson. When Jane died, Jackson married another Sappington daughter, Louise. When Louise also died, Jackson returned to Dr. John and asked for the hand of a third daughter, Eliza. "You can have Eliza," said Dr. John, "but don't come back for the old lady. I want her for myself."
Eliza, by a previous marriage, had four children, one of whom was Ginger's great-great-grandmother.
CAPTIONS:
Ginger visits Arrow Rock, Mo. On the old Santa Fe Trail, where her ancestor moved from Maryland in 1817. Their heirlooms are on exhibit in this tavern.
At tomb of her most famed ancestor, Dr. John Sappington, near Arrow Rock, Ginger reads epitaph: "A truly honest man is the noblest work of God" : "He lay like a warrior taking his rest." --from Alexander Pope and Charles Wolf.
On this sturdy old four-poster, now displayed in the Arrow Rock tavern, Ginger bounces respectfully. It belonged in the household of Dr. John Sappington.
Atop the old Sappington place called Prairie Park, just outside Arrow Rock, Ginger surveys her ancestral acres. Built by Dr. Sappington's son about 1844, Prairie Park, with its high rooms and grand stairway, was a Missouri show place. It is now owned by modest farmers.
From the roof of Prairie park, where Ginger is taking a good look, Dr. Sappington claimed he could see his five daughters' homes. The doctor moved here in his old age, gave his daughters nearby land so he could keep an eye on them. The buildings below are old slave quarters.
Three of a kind are Ginger and her enterprising great-great-great-grandparents, Dr. and Mrs. John Sappington, depicted in anonymous portraits hanging in Arrow Rock tavern. Dr. Sappington introduced quinine pills to cure malaria in Missouri where church bells were rung every night to remind people to take pills. Ginger descends from the Sappingtons through her father, Eddins McMath, who was the son of Louise Eddins, who was the daughter of Elizabeth Pierson, who was the daughter of Eliza Sappington, the doctor's eldest daughter.
A Texas Dance Contest Headed Her to Hollywood
CAPTIONS:
After 20 years Ginger sits at her old school desk in fifth grade at Fort Worth, Texas. With her is Mrs. Ruth Zant, who taught her favorite subject, English.
At 13 Ginger attended school.
Ginger returns to Baker Hotel in Dallas to same ballroom where in 1925 she won Charleston contest that started her fame. Now she does steps even better.
This is Ginger's hideaway behind her Hollywood home. At right is her own caricature of Katharine Hepburn and the bust she sculpted of her mother.
Ginger wins Academy Award.
A childhood dream comes true in the form of this soda fountain in her own home. Ginger fixes a rich sundae for her mother (left) who lives with her.
For four years Ginger had the school and home life of any average U.S. child, after her family moved to Fort Worth, Texas in 1922. Her mother had married John Rogers, an insurance agent, and helped support her family as a theater reporter on the Fort Worth Record. From this theatrical connection Ginger, who took her stepfather's name, met many show people who taught her to sing and dance for fun. As a reward for winning a statewide Charleston contest in 1925, Ginger headed a little troupe called Ginger Rogers and her Redheads and was booked for six months of one-night stands over the Orpheum circuit, known in show business as the Death Trail. Though Ginger never completed grade school, today she is better educated than many college graduates.
From the Death Trail, Ginger graduated to the Paramount Publix circuit on which she appeared in short musical revues in first-class movie houses. While her salary jumped to $350 a week, Ginger sang, danced, gave baby-talk "recaltations about the amunals, including Mama Nyceroserous and Papa Hippopapamus." On all her travels Ginger was chaperoned by her mother, who made her clothes, wrote her acts, kept track of every cent. Mrs. Rogers' cut of Ginger's salary was about 20%, as it still is today, and no one has ever doubted that she earned it. She is Hollywood's best business mother.
In 1928 Ginger at 17 married Jack Culpepper, a young vaudeville hoofer whom she knew as a kid in Texas. They were divorced within a year. After two years as a Broadway musical comedy star, Ginger made the traditional trek to Hollywood in 1931.
There her dreams materialized rapidly enough so that by 1936 she had such standard equipment as a home on a mountain and a swimming pool. While Ginger is proud of her luxuries, she is happiest at work or puttering at her sculpture or painting. Her fondest dream came true last year at the Motion Picture Academy banquet when Actress Lynn Fontanne presented her the gold Oscar (right) for the year's finest feminine performance in Kitty Foyle. This, and her Charleston award (below left) were her two most wonderful honors.
She Plays and Rests on Her Magnificent New Oregon Ranch
CAPTIONS:
On her ranch-house roof, Ginger surveys the lovely Rogue River Valley in southern Oregon where she owns more than 1,000 acres. It takes Ginger 13 hours to drive here from Hollywood, but she goes there often for a taste of honest country life. The produce of "4R" (Rogers' Rogue River Ranch) includes corn, wheat, oats, pears, plums. Mrs. Rogers, who lives here permanently, cooks and cans with great success. Leaning on the fence at right are Ginger, her mother (right) and their farm manager watching the cattle at dinnertime.
Ginger feeds wild flowers to one of her 22 cows that will soon help provide good rich milk to a cantonment of soldiers stationed near the Rogers' ranch at Eagle Point, Ore.
With a mouthful of apple, Ginger raids her own orchard. Ginger herself doesn't do many chores around her ranch, feels she is entitled just to loaf after her chores in Hollywood.
Nettie and her litter of eight hungry little pigs catch the enterprising Rogers' spirit. Looking far into the future, Ginger says that she would like to retire on her ranch some day.
© 1942 LIFE Magazine
Article 1 | Article 2 | Article 3 | Article 4
Return to the Ginger Rogers main page.