Geraldine Fitzgerald
Awards | Downloads | Links | Image Credits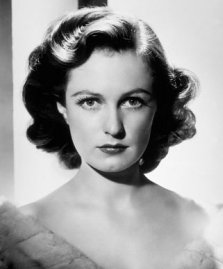 A talented Irish actress whose redheaded independence off screen hampered her film career, yet whose independent characterizations on screen distinguished it, Geraldine Fitzgerald appeared in almost a dozen British films before transplanting herself to the United States where she immediately caught Hollywood off-guard, earning an Academy Award nomination as Best Supporting Actress for only her second American film, WUTHERING HEIGHTS (1939). Her years under an exclusive seven-year contract to Warner Bros. were tempestuous however, and Fitzgerald's frequent refusal of assignments resulted in lengthy suspensions during the 1940s, impeding her from reaching her potential to become one of the silver screen's great leading actresses even though her performances always left audiences wanting more. Her big screen appearances after the 1940s were infrequent, but carefully considered, and regardless of the quality of the material in which she appeared, the actress herself never disappointed.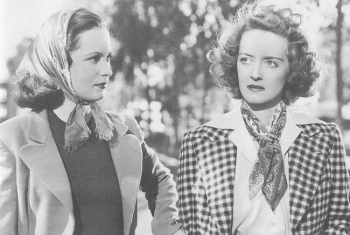 Having been signed to a studio contract by Warner Bros.' executive Hal Wallis based her performance in a Mercury Theatre production of Shaw's "Heartbreak House," Fitzgerald made her film debut playing the tormented best friend of terminally ill Bette Davis in DARK VICTORY (1939), a very worthy Best Picture-nominated melodrama also featuring George Brent, Henry Travers, Humphrey Bogart and Ronald Reagan. Although the boisterous Davis is most certainly the star of the picture, Fitzgerald's quiet character is hardly relegated to the background, making memorable contributions to several important scenes with simple gestures and expressions that economically convey the complex emotions with which she wrestles.
Music Clip:
"Dark Victory" (clip) by Max Steiner from DARK VICTORY (1939) (a .MP3 file).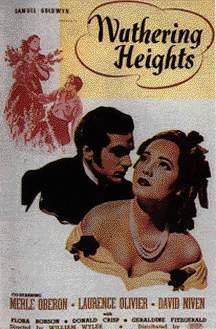 Though released a few days prior to DARK VICTORY in April 1939, Samuel Goldwyn's adaptation of Emily Brontë's WUTHERING HEIGHTS was actually Fitzgerald's second Hollywood film. In yet another Best Picture-nominated classic from 1939, this time under the direction of William Wyler, Fitzgerald earned an Oscar nomination of her own playing David Niven's rebellious younger sister, Isabella Linton, in a superb production headline by the likes of Merle Oberon, Laurence Olivier and Flora Robson. Although the Academy Award went to Hattie McDaniel for her performance in GONE WITH THE WIND (1939), Fitzgerald's impressive performance earned her universal acclaim, and she returned to Warner Bros. from her loan out to Goldwyn with high hopes for her future projects.
Music Clip:
"Cathy's Theme" (clip) by Alfred Newman from WUTHERING HEIGHTS (1939) (a .MP3 file).
(For help opening the multimedia files, visit the plug-ins page.)