Rhys Williams
Downloads | Image Credits | HOW GREEN WAS MY VALLEY | MRS. MINIVER
One of Hollywood's most authentic Welshmen, Rhys Williams was best known for his roles as colorful supporting characters in more than seventy films in the 1940s and 1950s.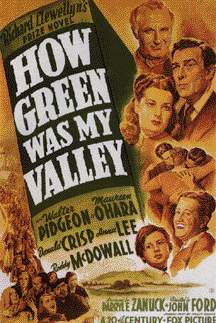 Williams was originally brought in to work as a technical advisor and dialect coach on John Ford's masterpiece HOW GREEN WAS MY VALLEY (1941) starring Maureen O'Hara, Walter Pidgeon, Donald Crisp, Sara Allgood, Anna Lee, and Roddy McDowall. He eventually played Dai Bando, a family friend of the Morgans and former boxing champion. The scene in which he tries to teach Mr. Jonas, the schoolmaster, how to box is not to be missed. The film itself is one of my favorites and won five Academy Awards out of its ten nominations, including the Oscar for Best Picture.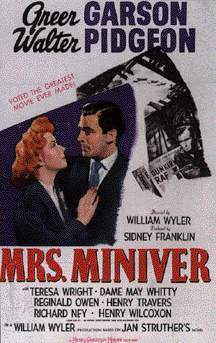 Another Academy Award-winning film, William Wyler's MRS. MINIVER was named the Best Picture of 1942. Another of my favorite movies, this story of an English family fighting to survive the Battle of Britain during World War II again stars Walter Pidgeon, this time with Greer Garson, Teresa Wright, and Henry Travers. Williams plays Horace in the film, a friend of the Miniver family and an especially good friend of Gladys, their maid. Incidentally, MRS. MINIVER marked the first of five films Williams made with Greer Garson, one of the most talented actresses and popular stars of the 1940s.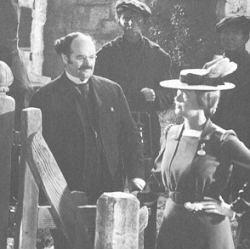 Adapted from Emlyn Williams' 1938 play about a devoted English schoolteacher in a poor Welsh mining town, Warner Bros.' THE CORN IS GREEN (1945) starred Bette Davis alongside Rhys, Mildred Dunnock, Nigel Bruce, John Loder and Arthur Shields. Serving as a technical advisor and playing Mr. Jones, a shop clerk who assists spinster schoolteacher Miss Moffat (Bette Davis) in her efforts to both teach and bring an appreciation for learning to her reluctant students, provided Williams with yet another opportunity to lend authenticity to a Hollywood version of Wales.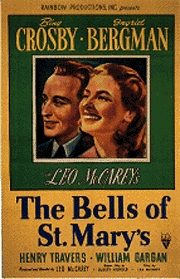 In THE BELLS OF ST. MARY'S (1945), a sequel to Bing Crosby's popular hit GOING MY WAY (1944) about a musical, all-knowing parish priest named O'Malley, Williams plays a city doctor who learns a few lessons about non-medical treatments for ailing souls. Also starring Ingrid Bergman and Henry Travers, THE BELLS OF ST. MARY'S earned eight Academy Award nominations in 1945, including one as the year's Best Picture.
Rhys Williams in a musical? Yes -- THERE'S NO BUSINESS LIKE SHOW BUSINESS (1954) starring Ethel Merman, Donald O'Conner, Mitzi Gaynor and Marilyn Monroe. Though Williams plays a priest in this film, Father Dineen, and doesn't sing, it's still a musical to his credit.
More Rhys Williams Links:
Downloads | Image Credits | HOW GREEN WAS MY VALLEY | MRS. MINIVER