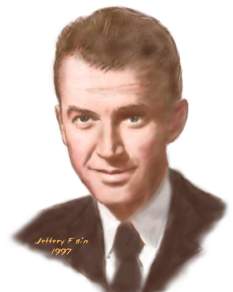 This pastel portrait of Jimmy was done by Jeffery Fain and appears here with his permission.
JAMES MAITLAND STEWART was born to a hardware store owner and his wife on May 20, 1908 in Indiana, Pennsylvania. He studied architecture at (then all-male) Princeton University where he served on the cheerleading squad during his junior year and played the accordion for the Triangle Club, a student acting group. He was also involved with the University Players and graduated in 1932 with a Bachelor of Arts degree. After doing some summer stock and other barnstorming stage work, he went to Hollywood and signed a contract with MGM. After playing bit roles in everything from murder mysteries to musicals, his first big films came in 1938 with two romantic comedies: VIVACIOUS LADY co-starring Ginger Rogers, and the Oscar-winning Best Picture of the year, YOU CAN'T TAKE IT WITH YOU with Jean Arthur. The following year, Stewart appeared in five films including the comedy-western DESTRY RIDES AGAIN (1939) with Marlene Dietrich, and he received his first-ever Oscar nomination as Best Actor for Frank Capra's MR. SMITH GOES TO WASHINGTON with Jean Arthur and Claude Rains. Though Robert Donat took the prize that year for GOODBYE, MR. CHIPS, in 1940 Stewart won the Best Actor Oscar for his performance in THE PHILADELPHIA STORY with Cary Grant and Katharine Hepburn. He would be nominated three more times over the course of his career for his performances in IT'S A WONDERFUL LIFE (1946), HARVEY (1950), and ANATOMY OF MURDER (1959). In 1984 Stewart was presented a honorary statuette by the Academy of Motion Picture Arts and Sciences for his high ideals both on and off the screen.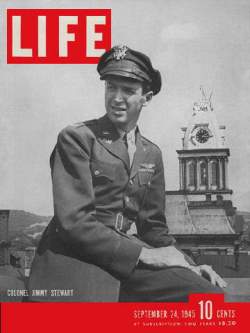 Colonel Jimmy on the cover of LIFE Magazine in 1945.
In 1941 (before the Japanese attack on Pearl Harbor), Stewart enlisted in the Army Air Corp where, as a bomber pilot and squadron commander, he lead a number of strikes against Germany during World War II and rose to the rank of colonel. For his service he won both the Air Medal and the Distinguished Flying Cross. After he returned to Hollywood and started off with the boxoffice disappointment IT'S A WONDERFUL LIFE (1946), Stewart began to change his "Capra" image making CALL NORTHSIDE 777 (1948) and Hitchcock's ROPE the same year. Other notable performances of this later period in his career include Cecil B. DeMille's THE GREATEST SHOW ON EARTH (1952) with Charlton Heston, as well as Hitchcock's masterpiece thrillers VERTIGO (1958) with Kim Novak and REAR WINDOW (1954) with Grace Kelly. Stewart also made a number of westerns with his favorite gray-felt hat, his favorite horse, Pi, and a variety of directors. He made five westerns with director Anthony Mann, starting with WINCHESTER '73 (1950) and was thrice teamed with legendary Hollywood cowboy John Wayne, first in THE MAN WHO SHOT LIBERTY VALANCE (1962) and HOW THE WEST WAS WON (1962), both directed by John Ford, and later in Wayne's final film THE SHOOTIST (1976) directed by Don Seigel.
In 1949 Stewart married his wife Gloria Hatrick McLean, the mother of two sons by a previous marriage, and subsequently had two twin daughters, Judy and Kelly. He and Gloria were married almost forty-five years, ending with her death in February 1994. Stewart lent his voice to a theatrical motion picture for the last time in 1991's animated classic AN AMERICAN TAIL: FIEVEL GOES WEST and he was honored by the Film Society of Lincoln Center for lifetime achievement in 1990. After two years of consistently declining health, Stewart died in Beverly Hills, California on July 2, 1997.
Biographical information from Cinemania '95.