Ginger Rogers and Fred Astaire
Filmography | Lyrics | Articles | Awards | Downloads | Bibliography | Goofs | Statistics | Rankings | Links | Image Credits | Ginger Rogers | Fred Astaire
THE BARKLEYS OF BROADWAY (1949)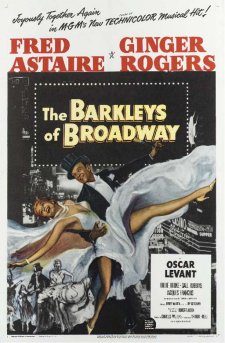 Joyously Together Again in MGM's New TECHNICOLOR Musical Hit!
Studio: MGM
Director: Charles Walters
Music by: Harry Warren, Ira Gershwin and George Gershwin.
Choreographer: Robert Alton, Hermes Pan
Cast including: Oscar Levant, Billie Burke, Gale Robbins, Jacques François, George Zucco.
Musical Numbers including:

"Swing Trot" danced by Ginger and Fred;
"Sabre Dance" (piano instrumental) played by Oscar Levant;
"You'd be Hard to Replace" sung by Fred, danced by Ginger and Fred;
"Bouncin' the Blues" danced by Ginger and Fred;
"My One and Only Highland Fling" sung and danced by Ginger and Fred;
"Weekend in the Country" sung by Ginger, Fred and Oscar Levant;
"Shoes with Wings On" sung and danced by Fred;
"Concerto in B-flat Minor for Piano, First Movement" (piano instrumental) played by Oscar Levant;
"They Can't Take That Away From Me" sung by Fred, danced by Ginger and Fred;
"Manhattan Down Beat" sung by Fred, danced by Ginger, Fred and chorus.

Music Clips:
Lyrics:
After almost a decade apart, Ginger Rogers and Fred Astaire came together again in 1949 and filmed their tenth and final musical, THE BARKLEYS OF BROADWAY, for MGM. It is unique in several ways (not the least of which is that fact that it was their only film in color), but at the same time, hearkens back to the old 'thirties musicals through which we had come to know and love them. Thus it's understandable to get a little sentimental with this one and not criticize it as much as we might, were it standing completely on its own. It's not -- and memories of the RKO years are evoked in this film by more than just seeing Fred and Ginger together again.
To begin at the beginning, this was no planned reunion. Coming off his success with her in EASTER PARADE (1948), Fred was scheduled to make BARKLEYS with Judy Garland, and it was written with the two of them in mind. After three weeks of rehearsal however, Judy was unable to continue due to ill health, and in search of a quick replacement, MGM rang up Ginger who was taking some time off at her ranch in Oregon. She limbered up, reported to work, and although she hadn't made a musical in ten years, the results speak for themselves.
THE BARKLEYS OF BROADWAY is the story of a husband-and-wife musical comedy team who bicker incessantly and eventually break up because the wife (Dinah) wants to prove to herself and her husband (Josh) that she is a capable dramatic actress and not just a song-and-dance girl. Comparisons with the "lobby gossip" history of Fred and Ginger's career together are unavoidable here, as it was generally well known that while both Fred and Ginger desired to go their separate ways after their years together at RKO, Ginger's ambition was to establish herself in some straight dramatic roles, whereas Fred was happy continuing in musicals. Furthermore, rumors of their off-screen bickering while filming together were a favorite gossip topic among the fan magazines. Hence, it was no secret to anyone involved what this film could appear to be -- at least partly autobiographical. But Ginger plays Dinah Barkley so resoundingly tongue-in-cheek, that she immediately assures the audience she's not afraid they'll think the picture is mocking her. "I am not Dinah Barkley, nor is she I," Ginger appears to be telling us. "Now sit back and enjoy the show."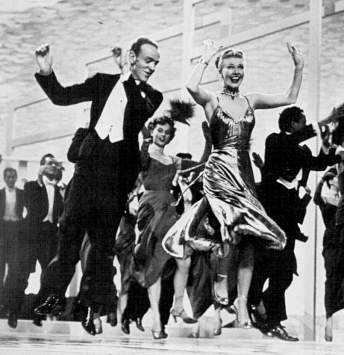 Josh and Dinah dancing to "Swing Trot," which appears under the opening titles of the film.
While it's almost impossible to appreciate in THE BARKLEYS OF BROADWAY because it's so hidden, "Swing Trot" without the titles can be seen in all its splendor in THAT'S ENTERTAINMENT III (1994).
BARKLEYS opens with a neat dance number called "Swing Trot" which immediately establishes Fred and Ginger's characters as a professional musical comedy team. Unfortunately, most of it takes place behind the opening credits (whose dumb idea was that anyway?) and only the last few measures of the dance appear in plain sight. Right off however, we can tell things have changed. Ginger is no longer the lithe, twenty-something young ingénue we remember from the earlier films, but has grown a woman's body (albeit still beautiful, athletic and well cared for). Fred is light on his feet, but appears a little more wrinkled than he used to be (though he still doesn't look his full 50 years). Thus, at the initial sight of the two together after so long, one might worry a bit about whether they can still cut it. We needn't however -- they're still Rogers and Astaire.
The animosity between Josh and Dinah is quickly revealed during their curtain speeches after the show, when both continue insisting that credit for the night's success is due the other, until the show's composer, Ezra Millar (played by MGM's piano man Oscar Levant), breaks up the "meeting of the mutual admiration society" and allows the audience to go home. In the car on their way to an opening night party, they go at it again after he criticizes her performance in "the subway scene." Upon reaching the party, they call a truce long enough to get something to eat, and agree to take their picnic outside on the terrace to avoid being called upon by their hostess, Mrs. Belney (Billie Burke), to perform an encore. Dinah gets side-tracked by a French playwright named Jacques Barredout however, who informs her that he hated the show. "You're wasted in comedy," he tells her. "You could be a great dramatic actress." He goes on to compliment her performance in the subway scene and compare her to Sarah Bernhardt. After sitting outside in the cold by himself waiting for her, Josh returns to find Dinah engrossed in conversation with Barredout, and after sitting politely through Ezra's performance of "Sabre Dance," they leave.
Back home in their Manhattan townhouse the shouting really starts. Dinah tells Josh all about Barredout's praise of her dramatic talents, and he laughs, crediting himself with having molded her from nothing like Svengali. At that remark, she whacks him on the head. The lovers' quarrel resolves itself however, and Josh sings "You'd Be Hard to Replace" (

) after which they dance a bit. It's a nice song, but the staging (both in bathrobes) is reminiscent of SWING TIME's "The Way You Look Tonight" and doesn't give the tune the prestige as a love song which it might have had otherwise.
The next day at rehearsals, the show's producer announces to Dinah that he's hired an understudy for her "just in case" she and Josh have a fight one night and she refuses to go on. Dinah takes it very well in front of Ezra and the ditzy understudy Shirlene (played by Gale Robbins), but casually tosses a chair across the room when the coast is clear, indicating her displeasure. And when Josh consoles her a bit by telling her the girl wasn't really as cute as he pretended she was in front of her, Ginger displays her wonderful gift for mimicry and mocks Shirlene's innocent, brown-nosing voice: "Well, not quite as cute as all that, Mister Barkley." (

) She does a few deep knee bends, and they move right into the most impressive dance number in the film, "Bouncin' the Blues." Comparable to, but not as spontaneous-feeling as FOLLOW THE FLEET's "Let Yourself Go" and "I'll Be Hard to Handle" from ROBERTA, "Bouncin' the Blues" is BARKLEYS proof that whatever it was, Fred and Ginger still have it. The fact that the tapping doesn't appear spontaneous actually matters very little here because it's not supposed to be -- they're seasoned professionals and the best in the business, no doubt about it. At the end of the number, Ginger slides sultrily off the stage at Fred's beckoning, her body language telling us that ten years may have passed, but she's not through yet.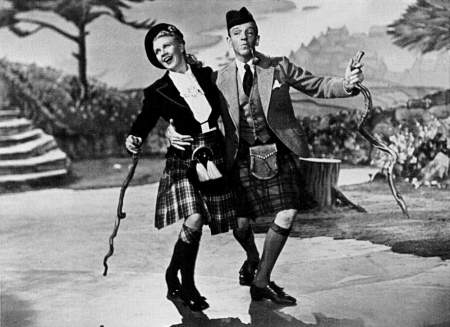 "My One and Only Highland Fling" (

) is part of the Barkleys' show and a really cute song in my opinion. Fred doesn't look his best in a kilt, and the dance portion is pretty reserved -- thus not much worthy of note. But both Fred and Ginger have a lot of fun with their accents in this tale of courtin' in the Scottish highlands, and Ginger's facial expressions especially make this song more fun than one would anticipate, given the set up.
As the story continues, Dinah gets more and more annoyed with Shirlene, and with the fact that everyone thinks of her only as the product of Josh's genius. A surrealist who does a portrait of them even depicts her as a pancake being molded by Josh the frying pan. They agree to take a brief vacation and drag Ezra along for "A Weekend in the Country" which they sing while strolling along the dirt road to Mrs. Belney's house where they plan to golf, play a little tennis, and relax. Barredout is there however, and having finished his new play "The Young Sarah" about the early years of Sarah Bernhardt, he wants to discuss the possibility of Dinah playing the lead. She won't commit, but secretly agrees to read the script. A few weeks later, Josh catches her with it and their ultimate break-up takes place in front of a camera crew from Look Magazine, with Dinah walking out on Josh and the musical to take the lead in Barredout's play.
Josh continues in the musical with Shirlene, and things go pretty badly for Dinah at first because Barredout doesn't know how to direct her. Ezra tries to reunite the pair by tricking them into performing at a hospital benefit together, but Dinah makes it clear to Josh that she needs to do this to prove something to herself. The climax comes on Dinah's opening night when she makes good as Young Sarah, but is this enough for her? Will she go back to Josh or pursue her new romance with the man who has helped her discover herself anew? Ah, the denouement...
There are several other musical numbers in BARKLEYS worth mentioning: For starters, there's Fred's customary solo, entitled "Shoes with Wings On" in this film. It seems odd that this should happen so late in the series, but of all Fred's solos, this one takes the least advantage of his specific talents. First, as as song, it's not much because the lyrics are so random and nonsensical. Presumably this is why Fred decided to sing it in voice-over, as if his character were "thinking" the lyrics; but that doesn't really come across very well, and it's a shame he had to resort to this, given what a talent he had for giving lyrics special meaning through his expressive singing style. The set-up of the dance doesn't do him justice either. In this sketch, he plays a dancing-shoe repair clerk who is left alone in the store, and when he begins dancing, the shoes begin jumping off the shelves and join him. It's a neat bit of trick photography (done by having extras dressed in black dance in front of a black velvet backdrop so only the shoes appear on the film, and then running the "shoes" film simultaneously with the take of Astaire). But honestly, Fred didn't need special effects to make his dancing impressive. In fact, part of his genius was the way he could animate inanimate objects (hats, canes, coat racks, etc.) by dancing with them. Finally, there are also too many waist-up camera shots in the number, denying Fred the opportunity to use his talent for enlivening the whole screen to the fullest. While not by any means unpleasant to watch, "Shoes with Wings On" seems to me more an insult to his talents than a compliment.
At the benefit concert, Josh and Dinah perform their "old standard" (and an obvious Fred-and-Ginger throwback from SHALL WE DANCE), "They Can't Take That Away From Me." Josh sings it solemnly to Dinah and they dance -- she in a full-skirted, white marquisette gown and he in white-tie and tails. It doesn't really have the emotional pull that some of their other "tormented lovers" numbers had in the past (for example, the parallel swaying in this one seems a bit lifeless), but it's still a nice number. Reports vary as to whose idea it was to use this (George and Ira) Gershwin number in a film the rest of whose score was written by Harry Warren and Ira Gershwin. (Ginger always claimed it was her idea.) But whomever it belongs to, no original song for the film could have had the "they're playing our song" feeling that this one did, and the decision to use it was a good one.
The last musical numbers are Oscar Levant's two piano performances and the film's finale production number, "Manhattan Downbeat." Just as one doesn't have to know anything about dancing to appreciate Fred Astaire's talents, one needn't be a classical music aficionado to admire the skill with which Oscar Levant's fingers bring "Sabre Dance" and the first movement of Tchaikovsky's "Concerto in B-flat Minor for Piano" to life on a keyboard. They don't advance the plot of the film any, but don't in any way detract from it. "Manhattan Downbeat" on the other hand, is a disappointment, seeing as how it's Fred and Ginger's final on-screen dance together. The costume department seems determined to remind us that this film was shot in Technicolor with all the pink and purple gowns, and someone decided that our two stars weren't really all that important when they chose to shoot the number from a distance and choreograph it so that Ginger and Fred almost get lost among the chorus. Sentiment perhaps, but I think a short "just the two of us" reprise similar to those used at the end of THE GAY DIVORCEE, ROBERTA, TOP HAT, SHALL WE DANCE, or even SWING TIME, would have been more effective here.
No treatment of BARKLEYS would be complete without some mention of "La Marseilles." The climax of Barredout's play, "The Young Sarah," is a scene in which Dinah (playing the young French actress, Sarah Bernhardt) performs a spoken recitation of the French national anthem at an audition before the Academie Française (mispronounced in the film), France's most elite acting troupe. As the pivotal moment in the film illustrating that Dinah has arrived as a dramatic actress, the recitation is disastrous, and as an example of emotionally spoken French, it's worse still. It's hard to blame this definite low point in the film on Ginger alone, because after seeing her in STAGE DOOR (1937) and KITTY FOYLE (1940), we know she is capable of playing serious, dramatic moments. Whoever coached her on her French pronunciation is partly to blame, because the recitation is accentuated with hard, grating consonants much more prevalent in German speech than in French. But the delivery is also wrong -- emphasizing the violence of this call to arms much too heavily over its patriotism. After seeing it, one has a tendency to ask, "What was that?" and I find it hard to believe that no one noticed how bad this scene was (or had the guts to say anything about it) while there was still a chance to re-shoot it.
Finally, the music and dancing of THE BARKLEYS OF BROADWAY are very good overall, and make the film worthy of the second-string classic musical status it enjoys today. The plot is strong, the acting consistently solid, and the nostalgia alone makes everything worth while -- it's one of the best films of the series, actually. BARKLEYS isn't really a fun picture in the way the early RKO films were however, because it just isn't written that way. In the old days, Josh and Dinah's bickering would have been less emotional and more lively -- bitingly sarcastic if not openly humorous. And while it's true that middle-aged, marital trouble doesn't have the spontaneity and spark as a subject matter that young love does, what's missing most from this film is the humor, excitement and ebullience Fred and Ginger naturally emitted in their earlier days. They are far from old and tired, but they're not as spunky as they used to be.
Main Page | 1 | 2 | 3 | 4 | 5 | 6 | 7 | 8 | 9 | 10
Filmography | Lyrics | Articles | Awards | Downloads | Bibliography | Goofs | Statistics | Rankings | Links | Image Credits | Ginger Rogers | Fred Astaire