FLYING DOWN TO RIO (1933)
Romance that soars to the skies on the wings of song!
Studio: RKO
Director: Thornton Freeland
Choreographer: David Gould
Music by: Vincent Youmans, Edward Eliscu, Gus Kahn.
Cast including: Delores Del Rio, Gene Raymond, Raul Roulien, Blanche Friderici, Walter Walker.
Musical Numbers including:

"Flying Down to Rio" sung by Fred, danced by Ginger and the chorus;
"Music Makes Me" sung by Ginger, danced by Fred;
"Orchids in Moonlight" sung by Raul Roulien, danced by Fred and Delores Del Rio;
"The Carioca" sung by Alice Gentle, Movita Castaneda and Etta Moten, danced by Ginger, Fred and the chorus.

Music Clips:
Both Ginger and Fred had come to Hollywood from Broadway; she in 1930 and he in 1933. He was 12 years her senior and not given credit for being much more than a dancer (Remember that famous evaluation of his first screen test?: "Can't act. Slightly balding. Can dance a little."), whereas she had already "made it" in movies as a second lead, with a contract to Paramount and later RKO. After a debut in DANCING LADY (1933) with Joan Crawford, Fred was cast as the second male lead in RKO's FLYING DOWN TO RIO (1933), a vehicle for Delores Del Rio. He played Fred Ayres, the accordionist in the band, while Dorothy Jordan was supposed to play opposite him as the band's vocalist, Honey Hale. When Jordan ran off with the film's producer, Merian C. Cooper, Ginger was brought in as her replacement -- thus bringing about their first ever pairing (and the only film for which Ginger was billed above Fred, it being her twentieth and only his second). Ginger and Fred had known each other (and even dated a bit) in their Broadway days, and it was soon clear who the real stars of the show were.
Actually, given how weak the love-triangle plot between the three leads is, the fact that Ginger and Fred (the number four and five players, respectively) steal the show is hardly surprising. Watching the film, one doesn't really seem to care whether Del Rio will chose the band leader or the man to whom she's engaged; it's all so hoaky, we're just waiting for Fred and Ginger to come back on again. Their little episodes are far more entertaining than the central plot, though they are still few, far between and not up to the standard which was to be set later by their true vehicle films. Since FLYING DOWN TO RIO wasn't written for them or with their talents in mind, I guess we can't blame it too much for lacking what it does, but I really don't think it would even be worthy of note today if it wasn't for Ginger and Fred's presence in it.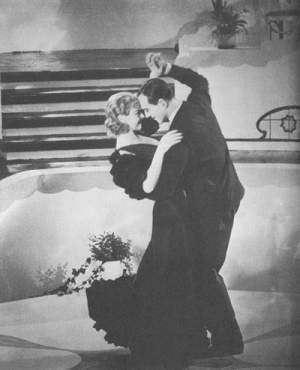 I'll even be so bold as to accuse this film of having modern-movie-itis: the plot has been sorely sacrificed to special effects which include background projection shots of Rio de Janeiro and biggest of all, a veritable three-ring aviation circus at the end. And as is usually the case with effects-dependent films, this one dates pretty badly. Despite the fact that the title song, "Flying Down to Rio" (

), was supposed to be the show-stopper, complete with chorus girls dancing on the wings of planes, Ginger and Fred's big dance duet, "The Carioca," came away with the Best Song nomination, and RKO realized the gold mine it had on its hands.
"The Carioca" is perhaps the most erotic dance number I've ever seen in a movie from this period. Noted for its forehead-to-forehead posture, it became a national dance craze in the United States after the film was released. And as Fred and Ginger commented while watching the native Brazilians do it (before trying it out themselves):
Honey: "What's this business with the forehead?"
Fred: "Mental telepathy."
Honey: "I can tell what they're thinking about from here."