The Quiet Man (1952)
Cast | Crew | Awards | Articles | Lyrics | Gallery | Bibliography | News | Downloads | Links | Image Credits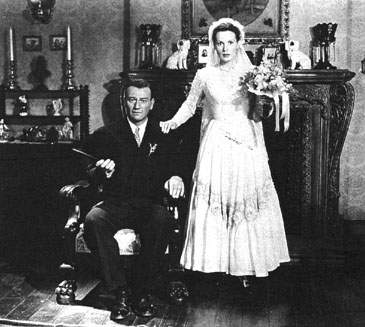 "And so they were married, in the same little chapel I gave them their baptism," declares Fr. Lonergan before toasting his successful conspiracy with Micheleen and the Playfairs. He also joins in a chorus of "The Humor is on Me Now" at the reception. Will then presents Mary Kate's dowry of £350 to Sean, whereupon local IRA leader Hugh Forbes (played by O'Hara's brother, Charles FitzSimons) offers a toast:

"May their days be long and full of happiness. May their children be many and full of health. And may they live in peace and... freedom." The word "national" was removed from the last line of the toast by Republic Pictures executives who didn't wish to offend any audience members sensitive to the contentious political situation in the newly independent Republic of Ireland. Though several other references to Irish politics still exist in the film, John Ford himself removed much of the political subtext which had existed in early versions of the script, deciding instead to focus on the love story between Sean and Mary Kate.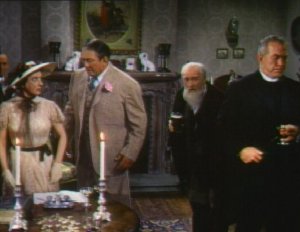 Unfortunately for the newlyweds, Will picks the occasion of their wedding to announce his own engagement to Mrs. Tillane -- but he hasn't asked her yet. Enraged at his gall, she storms out, and Will realizes he was tricked by Fr. Lonergan, Micheleen and the Playfairs into letting Mary Kate marry Sean. Accusing Sean of putting them up to it, Will rescinds Mary Kate's dowry and sends Sean crashing to the floor with a tremendous right cross.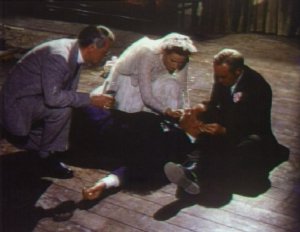 Knocked out for a few moments, Sean has a flashback to his heretofore mysterious past in America, and the audience finally learns why he decided to start life over in Inisfree --a secret known only to him and the Rev. Playfair (far left, played by Barry Fitzgerald's actor brother Arthur Shields). When Sean finally comes to, the party has broken up, and he takes Mary Kate by the hand home to White O'Morn.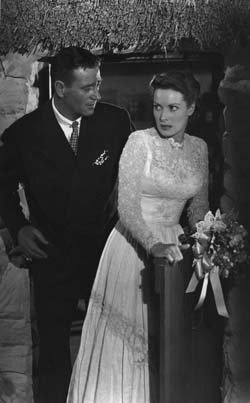 According to local custom however, without her fortune, Mary Kate doesn't consider herself a married woman, and she demands that Sean retrieve her furniture and dowry from Will before he exercises his conjugal privileges: "I'll wear your ring. I'll cook, and I'll wash, and I'll keep the land, but that is all!... Until you have my dowry, you haven't got any bit of me -- me, myself! I'll still be dreamin' amongst the things that are my own, as if I had never met you. There's 300 years of happy dreamin' in those things of mine, and... I want them. I want my dream." After a short tussle in which Sean demonstrates that she couldn't lock him out if she wanted to, he spends his wedding night in his sleeping bag.
The next morning, Sean and Mary Kate are awakened by a chorus of "Mush-Mush-Mush Tural-i-addy" sung by Micheleen and the local boys who have talked Will out of Mary Kate's furniture.
More Memorable Quotations:
"What's a house without a woman in it? Where would any men of us be without a woman? Why, even Father Lonergan had a mother." --Will Danaher.
"Have you lost the little sense you were born with?" --Widow Tillane.
"It is a pretty cottage, isn't it?" --Mary Kate Danaher.
"There'll be no locks or bolts between us, Mary Kate -- except those in your own mercenary little heart!" --Sean Thornton (a .WAV file).
"What manner of man is it that I have married?" --Mary Kate Danaher.
"A better one, I think, than you know, Mary Kate." --Hugh Forbes.
"Saddle up my horse, will ya?" --Sean Thornton.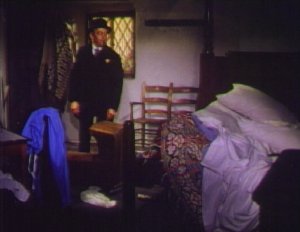 Delivering a baby cradle to the bedroom, Micheleen observes the broken bed and lets his imagination run away with him. "Impetuous! Homeric!" he declares to himself, in a scene which some censors had cut from the film for its racy suggestivity. While grateful for her furniture, Mary Kate is dismayed to hear that Will could not be persuaded to part with her dowry, and further dismayed when Sean declares he has no interest in the money anyway.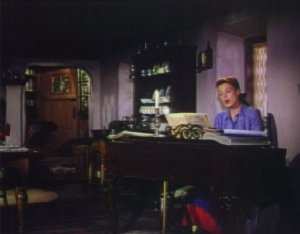 Mary Kate busies herself setting up house and then sits down at her spinet to sing some original lyrics to "The Isle of Inisfree". More than just another traditional Irish song inserted into the film, "Inisfree" is used as a vehicle of revelation. As Mary Kate sings, she listens to her own song and reconsiders the ultimatum she has given Sean. Her resolve weakened, she runs outside to find him planting roses (below).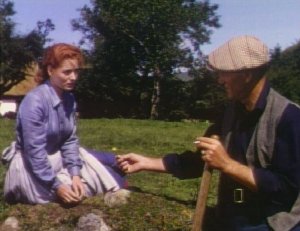 Torn between her love for Sean and her maiden pride, Mary Kate fills an uncomfortable silence with talk of the supplies they will need to start farming, and they decide to make a shopping trip to Castletown before dinner. While there however, they run into Will, and when Sean refuses to ask him for Mary Kate's dowry, she angrily drives off without him, leaving him to walk the five miles back to Inisfree -- fuming.