Elia Kazan
Filmography | Awards | Articles | Teresa Wright on Kazan | News | Downloads | Links | Image Credits | A TREE GROWS IN BROOKLYN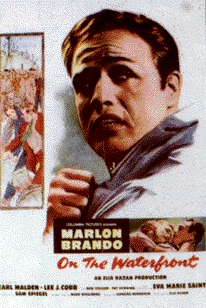 After suffering two commercial failures at 20th Century-Fox, VIVA ZAPATA! (1952) with Marlon Brando and MAN ON A TIGHTROPE (1953) with Fredric March, and finding himself surrounded by controversy when he admitted to an 18-month membership in the Communist Party during the 1930s, Kazan had difficulty finding backers for his next film project, ON THE WATERFRONT (1954). The story of a longshoreman who stands up to corrupt union bosses, the film was eventually made at Columbia Pictures and became the biggest critical and box-office success of Kazan's career, earning twelve Academy Award nominations and eight Oscars, including Kazan's second as Best Director, statuettes for both Brando and Eva Marie Saint, and the award for Best Picture of 1954. Incidentally, ON THE WATERFRONT marked the last of Kazan and Brando's three screen partnerships.
Video Clips from ON THE WATERFRONT (1954):
"Charlie pulls a gun" with Marlon Brando and Rod Steiger (a .RAM file courtesy Columbia Pictures).
"I could'a been a contender." with Marlon Brando and Rod Steiger (courtesy Time Magazine Online).
"Johnny Friendly teaches arithmetic" with Lee J. Cobb, Marlon Brando and Rod Steiger (a .RAM file courtesy Columbia Pictures).
"Terry confesses" with Marlon Brando, Karl Malden and Eva Marie Saint (a .RAM file courtesy Columbia Pictures).
(For help opening the multimedia files, visit the plug-ins page.)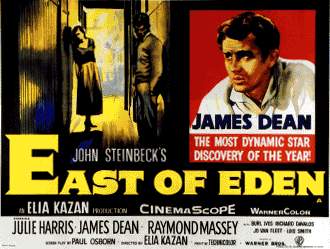 The following year, Kazan shepherded the film debut of James Dean in the film adaptation of John Steinbeck's EAST OF EDEN (1955), also starring Raymond Massey. Though Dean had played bit parts in prior films, Cal Trask was his first substantive movie role and he earned an Oscar nomination for it.
Music Clip:

"Main Theme" (clip) by Leonard Rosenman (a .MP3 file).

Starting with EAST OF EDEN, Kazan began producing his own film projects, and in 1956 directed BABY DOLL from a screenplay by Tennessee Williams based on two of his one-act plays ("27 Wagons Full of Cotton" and "The Unsatisfactory Supper"). (Interestingly, Kazan directed both of the films -- STREETCAR and BABY DOLL -- for which Williams received screenwriting Oscar nominations.)
Starring Karl Malden, Carroll Baker and Eli Wallach, BABY DOLL tells the story of a middle-aged southern cotton ginner (Malden) anxious to consummate his marriage to his child-bride of two years (Baker), and the Scicilian business rival with a discerning eye for young blondes (Wallach, in his film debut) who aims to beat him to it. Filmed on location in Benoit, Mississippi, BABY DOLL was condemned by the Catholic League of Decency and many critics for its racy subject matter but still earned four Academy Award nominations. The moral condemnation hurt the film's commercial viability however, and BABY DOLL floundered at the box office.

"Original Theatrical Trailer" with Carroll Baker, Karl Malden and Eli Wallach (a .MOV file).
Kazan's next film, A FACE IN THE CROWD (1957) starred Andy Griffith as a hillbilly musician launched into the national TV spotlight by promoter Patricia Neal. Though artistically worthy, it proved a commercial flop.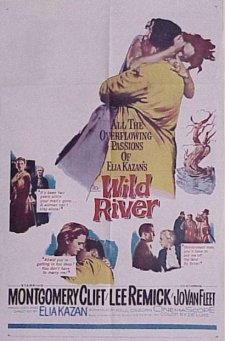 After making her film debut as a baton-twirler in A FACE IN THE CROWD, actress Lee Remick worked her way to the status of co-star opposite Montgomery Clift in Kazan's next film, WILD RIVER (1960), about an official of the Tennessee Valley Authority trying to convince an elderly woman (played by Jo Van Fleet) to leave her island home and make way for a new dam. Though a sentimental favorite of the director and Kazan's first film to be shot in CinemaScope, WILD RIVER was another box office disappointment.

"Original Theatrical Trailer" with Montgomery Clift, Lee Remick, Jo Van Fleet and Albert Salmi (a .MOV file).
(For help opening the multimedia files, visit the plug-ins page.)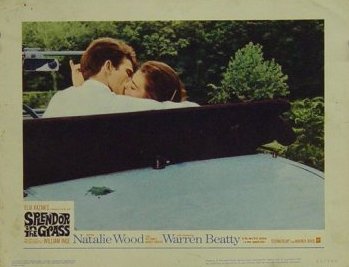 In 1961 Kazan directed Natalie Wood and screen newcomer Warren Beatty in SPLENDOR IN THE GRASS, based on an Oscar-winning original screenplay by William Inge. Though the plotline (about Midwestern teenagers struggling to balance hormones and morality in the 1920s) gets soapy at times, Kazan again elicits notable performances from his young stars, especially Wood.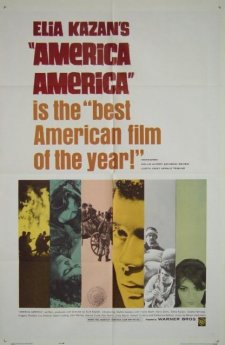 In the 1960s, Kazan turned his attention to writing and in 1962 published his first novel, AMERICA, AMERICA, based on the story of his own family's immigration to the United States from Eastern Europe at the turn of the century. The following year, Kazan wrote, directed and produced a film version of the best-selling novel and earned three Academy Award nominations for his efforts. In 1969 he directed the film version of his second novel, THE ARRANGEMENT, which was less well received. Kazan's last major film was the successful adaptation of F. Scott Fitzgerald's unfinished novel about a Hollywood producer working himself to death in the 1930s, THE LAST TYCOON (1976). In addition to emerging stars like Robert De Niro and Jack Nicholson, the film also featured such screen veterans as Robert Mitchum, Ray Milland, Dana Andrews, Tony Curtis and John Carradine.
Further Reading:
Elia Kazan: a life by Elia Kazan (New York: Knopf, 1988).
Elia Kazan: a biography by Richard Schickel (New York: HarperCollins, 2005).
Elia Kazan: interviews edited by William Baer (Jackson: University Press of Mississippi, c2000).
Kazan: the master director discusses his films: interviews with Elia Kazan by Jeff Young (New York: Newmarket Press, c1999).
Elia Kazan: a guide to references and resources by Lloyd Michaels (Boston, Mass.: G.K. Hall, c1985).
Kazan on Kazan by Michel Ciment (New York: Viking Press, 1974).
Page 1 | Page 2
Filmography | Awards | Articles | Teresa Wright on Kazan | News | Downloads | Links | Image Credits | A TREE GROWS IN BROOKLYN