Joan Crawford
Filmography | Awards | Downloads | Links | Image Credits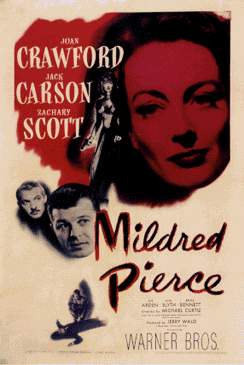 After almost two decades at MGM, Crawford left the studio in search of better roles and landed one at Warner Bros. she could really sink her teeth into -- that of the title character in MILDRED PIERCE, a working class woman whose ambitions to make a better life for herself and her family both succeed and fail simultaneously. Flanked by solid supporting performances by the likes of Jack Carson (as the good-hearted rascal), Zachary Scott (as the debonair reprobate), and Eve Arden (as the cynical wit), Crawford's earnest performance in this romantic drama earned the actress her first Academy Award nomination and the only Best Actress Oscar of her career.
Video Clip from MILDRED PIERCE (1945):

"I'll get you everything, anything you want" (a .MOV file).
(For help opening any of the multimedia files, visit the plug-ins page.)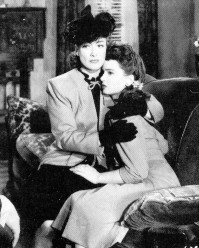 Mildred and her conniving daughter Vita (Ann Blyth) in MILDRED PIERCE (1945):

"I don't like this house mother." --Vita.
"Neither do I, but that's no reason for me to marry a man I'm not in love with." --Mildred.
"Why not?" --Vita.
"Vita! Does a new house mean so much to you that you would trade me for it?" --Mildred.
"I didn't mean it, mother. I don't care what we have as long as we're together. It's just that there are so many things that I... that we should have and haven't got." --Vita.
"I know, darling. I know. I want you to have nice things." --Mildred (a .MP2 file).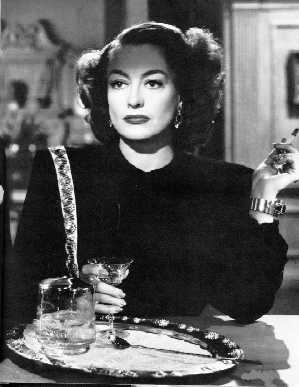 In HUMORESQUE (1946), Crawford plays Helen Wright, a wealthy society woman who falls in love with and sponsors a young violinist (Van Heflin) but comes to resent his commitment to his music.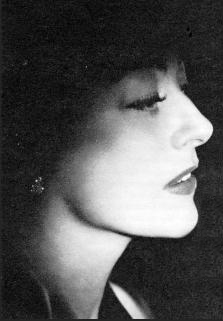 As actress Myra Hudson in SUDDEN FEAR (1952), a noir thriller co-starring Jack Palance and Gloria Grahame that marked one of the last good roles of Crawford's career. She received her third and final Oscar nomination for this performance.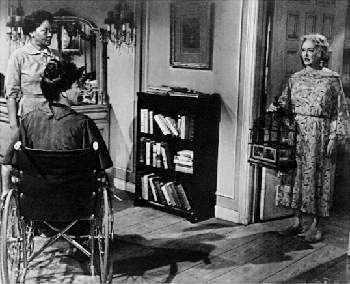 With Bette Davis in WHATEVER HAPPENED TO BABY JANE? (1962), the first of the series of campy horror movies that dominated the final decade of Crawford's film career.
Further Reading:
Femme Noir: The Bad Girls of Film by Karen Burroughs Hannsberry (Jefferson, NC: McFarland & Co., 1998).
The Golden Girls of MGM by Jane Ellen Wayne (New York: Carroll & Graf, 2003).
The power of glamour: the women who defined the magic of stardom by Annette Tapert and Ellen Horan (New York: Crown, 1998).
Page 1 | Page 2
Filmography | Awards | Downloads | Links | Image Credits