John Wayne
Awards | Downloads | Image Credits | Links | THE QUIET MAN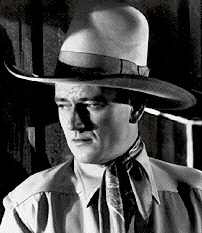 "Duke" Wayne began his career as a prop boy, stuntman and extra in the mid-1920s before making his feature film debut in MEN WITHOUT WOMEN (1930). Quickly working his way up from bit player to leading man in Raoul Walsh's THE BIG TRAIL (1930), Wayne would go on to star in almost 180 films over the course of his career and win a Best Actor Oscar in 1969. Though he played everything from football coaches to sailors, his roles in westerns and war films came to define his screen persona, and it is for his contributions to these all-American genres that he is best remembered today.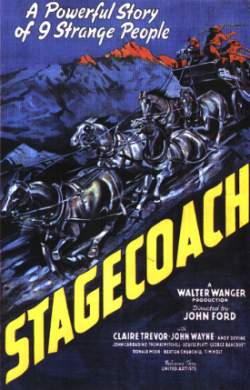 Though it was director Raoul Walsh who first cast Wayne in a starring role, THE BIG TRAIL (1930) was not a box-office success, and Wayne quickly returned to bit parts, serials and starring roles in B-westerns, including several for such "poverty row" studios as Monogram and Republic Pictures. In 1939 however, director John Ford, who had actually used Wayne as a bit player during the late 1920s, rediscovered him and cast Wayne in the leading role of the Ringo Kid in his landmark western STAGECOACH. After more than a decade in Hollywood, Wayne became a star overnight and established a life-long friendship with Ford which led to a creative partnership spanning over a dozen films.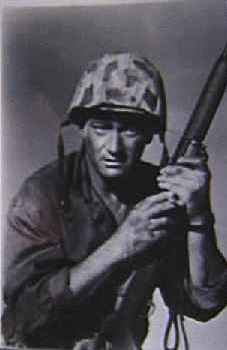 Ineligible for military service due to an ear problem, Wayne spent World War II in Hollywood appearing in a variety of roles, but among his biggest box-office successes of the early 1940s were such war films as FLYING TIGERS (1942), THE FIGHTING SEABEES (1944), BACK TO BATAAN (1945) and Ford's THEY WERE EXPENDABLE (1945). After the war, he earned his first Academy Award nomination as Best Actor for his portrayal of Sergeant Striker (at right) in SANDS OF IWO JIMA (1949).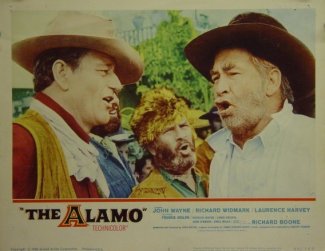 Beginning in the late 1940s, Wayne began to produce his films as well as star in them, and in 1960, he made his directorial debut with THE ALAMO, a film which he also produced and starred in (as Davy Crockett). THE ALAMO also marked another enduring partnership in Wayne's career -- that with composer Dmitri Tiomkin who had written scores for three of Wayne's previous films, and would collaborate on two more.
Tiomkin earned an Academy Award nomination for his work on THE ALAMO (1960) and had also composed the scores for RED RIVER (1948), RIO BRAVO (1959) and THE HIGH AND THE MIGHTY (1954) (for which he won the Best Music Scoring Oscar).
Music Clips from Wayne's films with Dmitri Tiomkin:
(For help opening any of the above files, visit the plug-ins page.)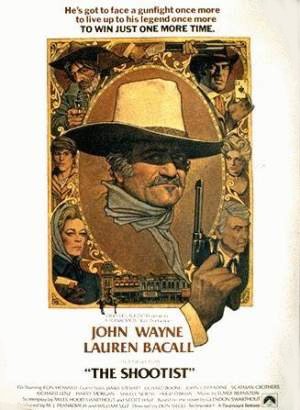 When he wasn't producing or directing, Wayne continued to act in a variety of different films throughout the 1960s, among them HATARI! (1962), DONOVAN'S REEF (1963), EL DORADO (1967), THE GREEN BERETS (1968) and TRUE GRIT (1969), for which he won his first and only Best Actor Oscar. By the 1970s however, he found himself playing prototypes of his established slow-talking, straight-walking screen persona in a series of westerns which succeeded financially, if not critically, because of the star's enduring box-office appeal. Reminding audiences of the actor behind the personality however, in his final film, THE SHOOTIST (1976) (the story of an aging gunslinger who, like Wayne himself, finds out he's dying of cancer), the icon gave one of his greatest film performances.