Gary Cooper
Filmography | Awards | Links | Downloads | Image Credits | THE PRIDE OF THE YANKEES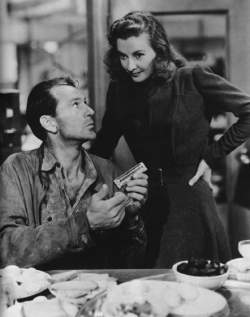 Cooper teamed with director Frank Capra for a second time in 1941's MEET JOHN DOE, a depression-era story about a newspaper columnist (Barbara Stanwyck, with Cooper at right) who launches a populist political movement when she convinces a homeless man (Cooper) to pretend he plans to committing suicide as a protest against current economic and social conditions. Although the script contains a lot of sermonizing in parts, MEET JOHN DOE makes its point in an entertaining manner and earned an Oscar nomination for its original story.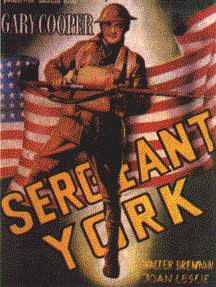 Also in 1941, Cooper received his second Academy Award nomination and his first Oscar for his performance as real-life World War I pacifist turned Medal of Honor winner Alvin C. York in Howard Hawks' biopic SERGEANT YORK (1941). Also starring Walter Brennan and Joan Leslie, SERGEANT YORK received an incredible 11 Oscar nominations and carried an important pre-World War II message about the need for the United States to get involved in the already-raging European conflict.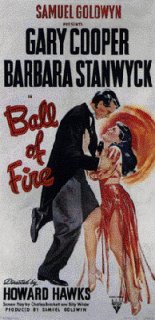 Re-teamed once again with director Howard Hawks and leading lady Barbara Stanwyck, Cooper's third blockbuster of 1941 was yet another Brackett-Wilder comedy, though this time one in which Cooper's character fell more in line with his established screen personality. In BALL OF FIRE, Cooper plays Professor Berttram Potts who, with his fellow lexicographers Oskar Homolka, Henry Travers, S.Z. Sakall, Tully Marshall, Leonid Kinskey, Richard Haydn, and Aubrey Mather, is writing a dictionary. Realizing they don't have a very good grasp on modern slang, the professors bring in burlesque dancer 'Sugarpuss' O'Shea (Stanwyck) to help them learn the new lingo, but they soon find themselves in trouble with her boyfriend Dana Andrews and the mob. Screwball comedy at its finest, BALL OF FIRE earned four Academy Award nominations, including one for Stanwyck.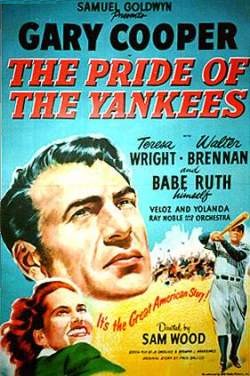 In yet another successful wartime biopic of an American hero, Cooper played baseball legend Lou Gehrig poster from Samuel Goldwyn's THE PRIDE OF THE YANKEES (1942), directed by Sam Wood and co-starring Teresa Wright and Walter Brennan. Cooper received the third of his five Best Actor nominations for this classic screen romance which is consistently ranked among the greatest sports movies of all-time and is also one of my favorite films.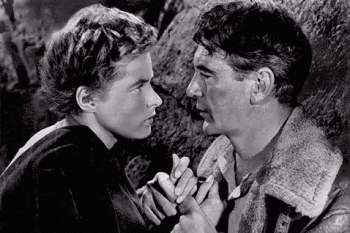 Resuming his success as a literary hero, Cooper starred opposite Ingrid Bergman in FOR WHOM THE BELL TOLLS (1943), directed by Sam Wood and based on Hemingway's novel about American mercenary Robert Jordan fighting against the facists in the Spanish Civil War. Cooper received his fourth Best Actor nomination for this role, one of the nine the film received.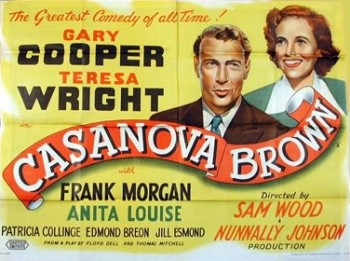 In his second teaming with THE PRIDE OF THE YANKEES collaborators Sam Wood and Teresa Wright, a romantic comedy called CASANOVA BROWN (1944), Cooper plays a new father who steals his newborn baby in an effort to prevent his ex-wife from putting it up for adoption -- an entertaining 1940s look at "Mr. Mom."