On Elia Kazan's Lifetime Achievement Award from the AMPAS
Reel Classics March 21, 1999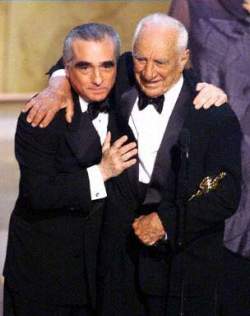 Kazan receiving an Oscar and a hug from Martin Scorcese at the 1999 Academy Awards ceremony.
For the most part I have avoided politics on my web page, but tonight I set fingers to keyboard in disgust at what I watched transpire on tonight's telecast of the 71st Annual Academy Awards ceremony. Specifically, I am referring to the way the members of the Academy of Motion Picture Arts and Sciences greeted and treated director Elia Kazan when he was presented with an honorary Oscar for lifetime achievement by Martin Scorcese and Robert De Niro on behalf of the Academy's 39-member Board of Governors. As is traditional at the presentation of such an award, Kazan received a standing ovation from members of the audience -- but only some of them. Others like Nick Nolte, Ed Harris and Richard Dreyfuss chose to remain seated and not applaud -- about a fourth of the total attendees, from what I could tell -- while still others like Steven Spielberg clapped but remained seated. This reaction really disgusted me and I've decided to put my opinions on this matter out in cyberspace for the record. The "conscientious objectors" were wrong.
Elia Kazan is indisputably one of the greatest directors of this century. Every actor who has ever worked with him -- from Gregory Peck, Karl Malden, Celeste Holm and Teresa Wright to Marlon Brando, Warren Beatty and Robert De Niro -- has acknowledged Kazan's special gift for directing, and most praise him without reserve. His contributions to the live theatre are innumerable and his cinematic legacy is singular. With seven Academy Award nominations and two Oscars for Best Director under his belt, Kazan has earned acclaim for a number of monumental films including A TREE GROWS IN BROOKLYN (1945), GENTLEMAN'S AGREEMENT (1947), A STREETCAR NAMED DESIRE (1951), ON THE WATERFRONT (1954), EAST OF EDEN (1955), SPLENDOR IN THE GRASS (1961) and other notable films without which American cinema would not be what it is today. In short, the fact that Kazan is deserving of recognition for his lifetime achievement in cinema is virtually indisputable.
However, after the Academy announced on January 7 that it would be honoring Kazan at tonight's ceremony, controversy arose over the issue of whether or not Kazan should actually be given such an award because there are those who disagree with his decision to testify before the House Un-American Activities Committee in 1952. In that testimony, he "named names," informing on eight friends from the Group Theatre who had once belonged to the Communist Party with him. As a result of Kazan's testimony and the testimony of others in the industry, these communist sympathizers were brought out into the open during the early years of the Cold War and blacklisted by the all-powerful studios -- many of them would never work again under their proper names. Those who opposed awarding Kazan the honorary Oscar were led mostly by formerly blacklisted writers and their family members who said that Kazan should not be forgiven by the motion picture industry for his testimony. My opinion on the matter stems from my belief that regardless of whether or not one agrees with Kazan's politics, his testimony should carry no weight in the decision to honor him. He deserves the honorary Oscar for lifetime cinematic achievement -- that should be enough.
On Wednesday March 17, radio and television personality Larry King devoted his entire show to the issue of Kazan's lifetime achievement award. His guests included Celeste Holm who won an Oscar for her performance in GENTLEMAN'S AGREEMENT under Kazan's tutelage, as well as actors Rod Steiger, Charlton Heston, Richard Dreyfuss and once-blacklisted writer Walter Bernstein. Steiger, Dreyfuss and Bernstein were against giving Kazan the award while Holm and Heston supported it. In voicing his opposition to the award, Dreyfuss continued to reiterate that it had become a political statement, and that by giving Kazan the award, the Academy was condoning his actions before the HUAC committee in 1952. Although the decision to honor Kazan had already been made by the Board of Governors, Dreyfuss made clear his intention to "sit on his hands" in protest when the award was presented -- a reaction which a number of notable others in attendance at the Academy Awards ceremony adopted as well. Steiger and Bernstein also condemned Kazan's decision to the "rat" on his friends, citing it as self-preservation and blaming Kazan for ruining the lives of the blacklistees and their families. This, the three agreed, was unforgivable.
There are those who defend Kazan by noting, from a historical perspective, that Kazan himself was but one of many participants in the communist hysteria of the period. There are others who point out that the names Kazan gave the committee were not new and merely served to confirm already suspected communists and communist sympathizers. Still others claim Kazan acted out of principle and not self-preservation, with no intent to ruin anyone's life. And Charlton Heston pointed out on Larry King Live that Kazan didn't write the blacklist, nor did HUAC -- the studios were the ones who decided not to the hire the outed communist sympathizers. I will not attempt to discredit the arguments of Kazan's detractors except to say I believe them to be rather harsh in singling out Kazan to blame for what resulted from the HUAC hearings. Furthermore, all these arguments in defense of what Kazan did may be valid, but to me they are beside the point. Kazan's award was given "in appreciation of a long, distinguished and unparalleled career during which he has influenced the very nature of filmmaking through his creation of cinematic masterpieces," and I find it down-right disgusting that certain Academy members and others would attempt to tarnish 89-year-old Kazan's crowning moment of achievement due to political differences of opinion, when they owe so much to his accomplishments.
Various parallels have been drawn between Kazan's award and the blemished reputations of other legends in other forums. I've heard references to Pete Rose, Mike Tyson and even Bill Clinton. One at a time: First, I believe the Pete Rose situation to the be different because, more than just civil law, Rose violated the rules of the sport which might have honored him when he chose to gamble on baseball. Second, rape and assault aside, Mike Tyson also violated the rules of his sport with that unfortunate ear-biting incident. Thirdly, Bill Clinton, (although not convicted) would have been removed from office, not because he had an "inappropriate relationship" with a young intern in the Oval Office, but because of the crimes he allegedly committed (obstruction of justice and perjury) while attempting to cover it up. Just as civil law, rape and sexual innuendo were not the real concerns in these cases, so Kazan's testimony is not at issue regarding his lifetime achievement. Kazan violated no laws or rules of the motion picture industry (or any other body) when he testified before HUAC in 1952. He only violated a school-boy code that says, "Even when you know they're guilty, you don't turn in your friends." Whether one believes he testified to save his own career or out of a deep personal conviction that a genuine communist conspiracy was threatening the nation is beside the point. Because he broke no rules, Kazan's decision to testify must always be analyzed subjectively, whereas Rose, Tyson and Clinton's (alleged) infractions can all objectively be defined as wrong.
Elia Kazan's contributions to American motion pictures are indisputable and there is nothing in the description of his lifetime achievement award commending him for anything other than these contributions. There is no reason to regard his Oscar as a political statement by anyone on behalf of any cause, and the only reason Kazan's testimony even became an issue was because the media pounced on the protests made by former blacklistees, and the members of the Academy didn't do their duty to silence the issue by insisting upon the separation of work and politics -- which they could easily have done. I am thoroughly disgusted with the arrogant display of political partisanship I witnessed at the 1999 Academy Awards tonight and condemn the choice made by those seated during the ovation to refuse to acknowledge the life-long contributions of one of the American cinema's greatest talents.
© 1999 Reel Classics, L.L.C.