Gene Tierney
Filmography | Awards | Downloads | Links | Image Credits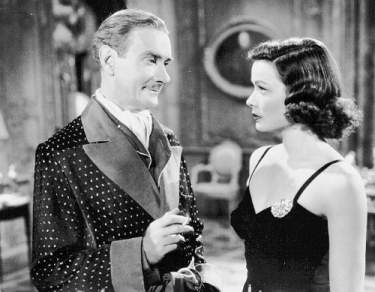 Tierney as Isabel Maturin with French society snob Elliott Templeton (Clifton Webb) in the film adaptation of W. Somerset Maugham's THE RAZOR'S EDGE (1946). This story of childhood friends who grow up and go their separate ways was nominated for four Oscars including Best Picture, and featured an all-star cast including Anne Baxter, John Payne, Tyrone Power, Herbert Marshall and Elsa Lanchester.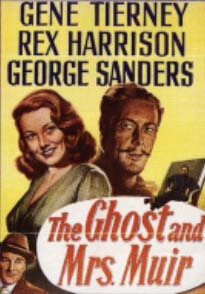 In Joseph L. Mankiewicz's THE GHOST AND MRS. MUIR (1947), Tierney plays a widow who moves into a haunted seaside house and falls in love with the ghost of its former sea captain inhabitant (played by Rex Harrison). Though the story sounds a little far-fetched, it actually makes a pretty good fantasy/romance, and contributions from supporting characters played by George Sanders, Natalie Wood and Anna Lee as well as Bernard Herrmann's music and Charles B. Lang's Oscar-nominated cinematography only elevate its status as a top-notch film.
Music Clips from THE GHOST AND MRS. MUIR (1947):
"Prelude" (clip) by Bernard Herrmann (a .MP3 file).
"The Sea" (clip) by Bernard Herrmann (a .MP3 file).
"The Painting" (clip) by Bernard Herrmann (a .MP3 file).
"The Storm" (clip) by Bernard Herrmann (a .MP3 file).
(For help opening any of the multimedia files, visit the plug-ins page.)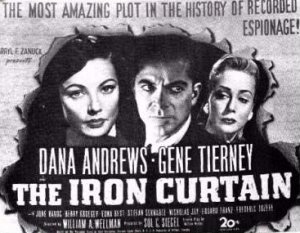 In the late 1940s, Tierney was again teamed with one of her most frequent co-stars, Dana Andrews, with whom she had previously appeared in BELLE STARR, TOBACCO ROAD (both 1941) and LAURA (1944). Their fourth joint appearance for Fox, William Wellman's THE IRON CURTAIN (1948), was a successful spy film featuring Tierney and Andrews as a married couple trying to sneak top-secret documents out of the Communist east.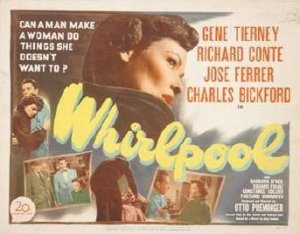 Reunited with her LAURA director, Otto Preminger, Tierney continued her success playing beautiful, yet cool and distant film-noir heroines in WHIRLPOOL (1949), a complex crime drama about the wife of a psychoanalyst (Richard Conte) who falls under the spell of a malicious hypnotist (Josť Ferrer).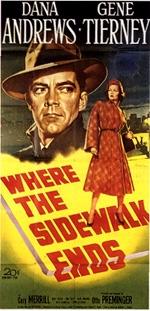 Tierney's fifth and final film with Dana Andrews, WHERE THE SIDEWALK ENDS (1950) (once again directed by LAURA's Otto Preminger), is a film-noir crime drama about a good cop (Andrews) going bad. Adapted by screenwriter Ben Hecht from William Stuart's novel Night Cry, WHERE THE SIDEWALK ENDS also features Gary Merrill and Karl Malden as well as a cameo appearance by Oleg Cassini, the film's costume designer and Tierney's then-husband.

A dozen years later, when Tierney returned to film work after a seven-year hiatus caused by numerous personal setbacks and a nervous breakdown, it was to play a supporting role in director Otto Preminger's ADVISE AND CONSENT (1962). The political thriller marked Tierney's fourth and final film with her LAURA (1944) director and the man who had first molded her dark, exotic beauty into the sophisticated, mysterious American-noir screen persona for which she is best remembered.
Further Reading:
Self-portrait by Gene Tierney, with Mickey Herskowitz (New York: Wyden Books, c1979).
Femme Noir: The Bad Girls of Film by Karen Burroughs Hannsberry (Jefferson, NC: McFarland & Co., 1998).
The Fox Girls by James Robert Parrish (Secaucus, NJ: Castle Books, 1971).
Page 1 | Page 2
Filmography | Awards | Downloads | Links | Image Credits