Debbie Reynolds
Biography | Filmography | Awards | Bibliography | Gallery | News | Downloads | Links | Image Credits | SINGIN' IN THE RAIN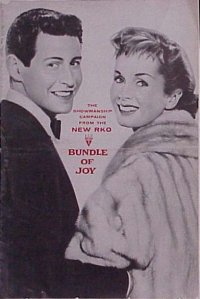 Unfortunately for Debbie, MGM failed to recognize her newfound versatility, and instead loaned her to RKO for BUNDLE OF JOY (1956), a musical remake of Ginger Rogers' 1939 comedy BACHELOR MOTHER. Co-starring Eddie Fisher in his screen debut, BUNDLE OF JOY was essentially a ploy to cash in on the enormous publicity surrounding Debbie's 1955 wedding to the pop singing heartthrob, an event which fan magazines had dubbed the marriage of "America's Sweethearts." Though the film did very well at the box office and the newlyweds' romantic chemistry was undeniable, the movie's entertainment quality was only adequate, and in the moments when acting was required, Debbie essentially carried Fisher in the film.

"Lullaby in Blue" (clip) from BUNDLE OF JOY (1956) sung with Eddie Fisher (a .MP3 file).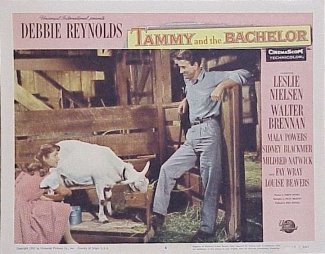 The following year, Debbie was loaned to Universal to play a backwater hick introduced to Southern society in TAMMY AND THE BACHELOR (1957). A box office smash, TAMMY spawned two sequels (starring Sandra Dee) and a television sitcom, and its success forever associated Debbie with wholesome, innocent, tomboyish characters in rowdy, rural romantic film romps.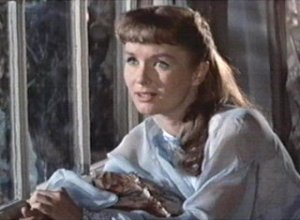 Contributing to the success of TAMMY AND THE BACHELOR was the enormous popularity of "Tammy's in Love," a pleasantly wistful love song from the film which became Debbie's second million-selling single. (*3)

"Tammy" (clip) from TAMMY AND THE BACHELOR (1957) (a .MP3 file courtesy Rhino Records).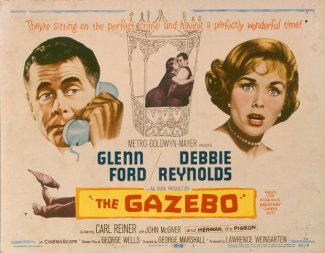 Back at MGM, Debbie and Glenn Ford appeared together in a cute, farcical crime spoof entitled THE GAZEBO (1959) about a television writer who murders his blackmailer and then can't get rid of the body. Debbie plays Ford's theatrical wife and has an energetic musical number, "Something Called Love," but the highlights of this film are the comic performances and entertaining script, making it a delightful waste of time.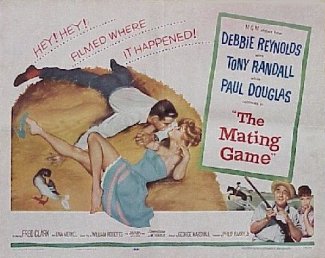 That same year, Debbie successfully reprised her rural tomboy role, this time opposite Tony Randall, in MGM's outlandish comedy THE MATING GAME (1959), about a tax agent who is sent to investigate a farmer's finances and falls in love with his daughter.

"The Mating Game" (a .MP3 file). (For help opening any of the multimedia files, visit the plug-ins page.)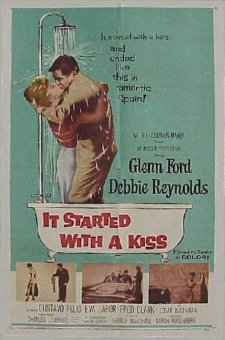 In the busiest year of her career (1959 -- in which she made four films), Debbie was teamed for a second time with Glenn Ford in IT STARTED WITH A KISS (1959), a rather racy sex comedy about a model (Debbie) who marries a penniless Air Force Sergeant (Ford) based on their physical attraction, and then withholds marital favors to be sure their marriage has a future. Except for the Spanish toreador and 1955 Lincoln Futura, it's a pretty standard sex farce, lacking the creative wit of THE GAZEBO. After completing the film, Debbie won release from her MGM contract and began to work as a freelancer. Due substantially to public sympathy for her as the "wronged wife" of Eddie Fisher (who had left her for Elizabeth Taylor after a highly publicized affair late in 1958), Debbie broke into the exhibitor's poll of the top-ten box office stars of 1959 and 1960 (*4), and she set out on her own in an attempt to capitalize on her enormous popularity.
Footnotes:
James Robert Parish and Ronald L. Bowers, The MGM Stock Company: The Golden Era (London: Ian Allan Ltd., 1973) 606.
Go to the next page.
Main Page | Page 2 | Page 3 | Page 4 | Page 5 | Page 6 | Page 7