Ronald Reagan
Filmography | News | Downloads | Links | Image Credits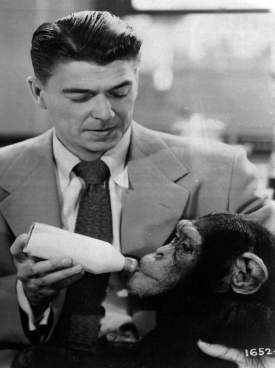 A still from the 1951 comedy BEDTIME FOR BONZO featuring Reagan and his chimp co-star Bonzo as well as Diana Lynn.
"Believe me, you must have credibility... Now, you take my role in Bedtime for Bonzo. I was a scientist who raised a chimp as a child in my home. It was a huge money-maker; terrific. People could believe in it. But then the studio decided to make a sequel called Bonzo Goes to College. I refused to play in it. It bombed. Who could believe a chimp could go to college and play on the football team? [It] lacked credibility." --Ronald Reagan, New York, 28 April 1980 (cited in Film Comment 16.4 (Jul/Aug 1980)).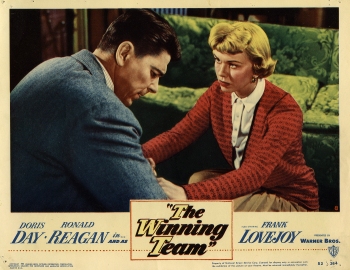 Reagan as Grover Cleveland Alexander in Warner Bros.' biopic of the St. Louis Cardinals' pitching legend, THE WINNING TEAM (1952), co-starring Doris Day as Alexander's wife.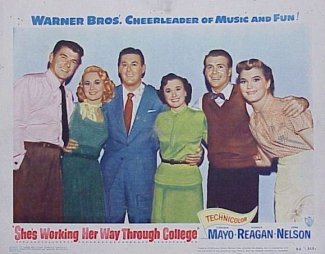 A lobby card from Warner Bros.' musical remake of THE MALE ANIMAL (1942), entitled SHE'S WORKING HER WAY THROUGH COLLEGE (1952), in which Reagan plays a college English professor who helps a former burlesque queen (Virginia Mayo) resume her formal education while fighting to preserve the academic integrity of Midwest State. Adequately entertaining, the film also features Phyllis Thaxter and Gene Nelson.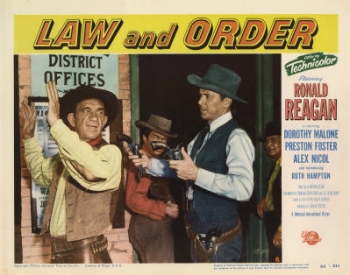 A lobby card from LAW AND ORDER (1953), a western featuring Reagan as Marshall Frame Johnson who comes out of retirement to help save Cottontown.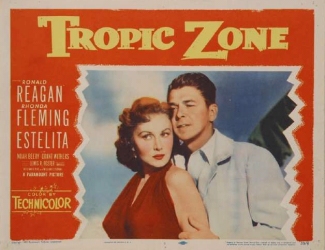 With Rhonda Fleming in TROPIC ZONE (1953) which stars Reagan as Dan McCloud, an expatriate who saves a banana plantation from outlaws.
Ronald Reagan Trivia:
After graduating from Eureka College in Illinois (1932), Reagan worked for a brief period as a radio sports commentator in Iowa before going to Hollywood to becoming an actor.
Before marrying actress Nancy Davis (real name Anne Frances Robbins) in 1952 with whom he had two children (Patricia and Ronald), he was married to actress Jane Wyman from 1940 to 1948 and had two children, Maureen and Michael.
From 1947 to 1952 and again during 1959-60, he served as president of the Screen Actors Guild and cooperated with efforts to combat alleged communist influences in the American motion-picture industry.
He served as governor of California from 1966 to 1974.
He ran unsuccessfully for President of the United States in 1968 and 1976 before defeating Jimmy Carter in 1980. He then served two terms as President: 1981-1985 and 1985-1989.
Page 1 | Page 2
Filmography | News | Downloads | Links | Image Credits