Jane Wyman
Filmography | Awards | News | Downloads | Links | Image Credits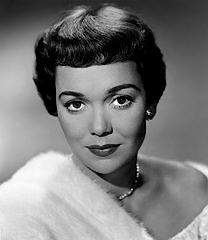 Beginning her Hollywood career as a bit player during the early 1930s, Jane Wyman served her time in the chorus and eventually worked her way up the ladder to leading roles in a variety of top-notch movies during the 1940s and 1950s. Nominated four times for Best Actress Oscars, Wyman made over 70 films before turning her talents to television and winning a Golden Globe award for her role as Angela Channing in "Falcon Crest," a popular television drama of the 1980s.
Wyman's career began with a number of small, inconsequential and frequently blonde roles and by 1936 she had landed a contract with Warner Bros. The studio had difficulty casting her however, and she mostly found herself in a variety of lead and second-lead roles in several B-grade comedies and musicals.

Nevertheless, by the mid-1940s, though still not a superstar, Wyman had worked her way into films with some of Hollywood's greatest talents. Above is a still from Warner Bros.' World War II musical comedy HOLLYWOOD CANTEEN (1944), in which Wyman had a minor role but played with the likes of Jack Carson, John Garfield and Bette Davis (all pictured above) as well as Ida Lupino, Dennis Morgan, Sydney Greenstreet, Alexis Smith, Peter Lorre, Eddie Cantor, Jack Benny, Joe E. Brown, Joan Crawford, Barbara Stanwyck, the Andrews Sisters, and Jimmy Dorsey and his band. Not such a spectacular film, but what a cast!
The film that finally launched Wyman's career into the upper echelon of Hollywood stars was Billy Wilder's THE LOST WEEKEND which went on to win the Oscar for Best Picture of 1945. Wyman (on loan-out to Paramount) played girlfriend to Ray Milland's tortured author in this startling and powerful story of alcoholism and received very positive reviews for her performance.
Music Clips from THE LOST WEEKEND (1945):
"The Bottle, First Meeting" (clip) by Miklos Rozsa (a .MP3 file).
"Love Scene and Finale" (clip) by Miklos Rozsa (a .MP3 file).
(For help opening any of the multimedia files, visit the plug-ins page.)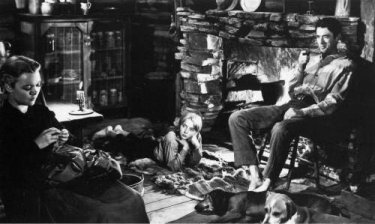 Continuing her breakout into serious dramatic roles, Wyman was loaned to MGM to play Ma Baxter in that studio's adaptation of Marjorie Kinnan Rawlings' Pulitzer Prize-winning novel THE YEARLING (1946).

Also starring Gregory Peck and Claude Jarman, Jr. (with Wyman above) the film earned Wyman her first Best Actress nomination. Amazingly, parts of THE YEARLING (at MGM) were shot simultaneously with Warner Bros.' musical biography of songwriter Cole Porter, NIGHT AND DAY (1946). Thus, there were days during filming of the two pictures when Wyman would race back and forth between the two studios, doing drama at MGM and musical comedy at Warner Bros. only hours apart.
Music Clip from THE YEARLING (1946):
"Main Title" (clip) by Herbert Stothart (a .MP3 file courtesy Rhino Records).
(For help opening any of the multimedia files, visit the plug-ins page.)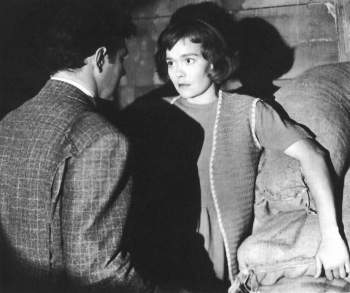 Wyman with Stephen McNally in the role for which she earned her first and only Best Actress Academy Award, Belinda McDonald in JOHNNY BELINDA (1948). Wyman, playing a deaf-dumb girl who is raped and gives birth to a child, does not utter a word or make a sound throughout the duration of the movie, and much to the surprise of her bosses at Warner Bros., both Wyman and the film were critically acclaimed.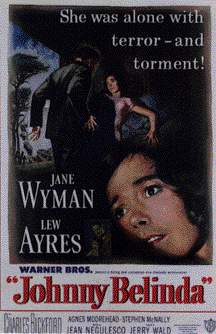 JOHNNY BELINDA (1948) received twelve Oscar nominations including one as Best Picture, and also featured Agnes Moorehead as Belinda's aunt, Charles Bickford as her father, and Lew Ayres as the doctor who teaches her to communicate -- all of whom earned Oscar nominations for their roles.
Upon accepting her Best Actress Oscar for JOHNNY BELINDA at the 21st Annual Academy Awards ceremony on March 24, 1949, Wyman said, "I won this award for keeping my mouth shut, so I think I'll do it again now."

"Johnny Belinda" (clip) by Max Steiner (a .MP3 file).
(For help opening any of the multimedia files, visit the plug-ins page.)