Errol Flynn & Olivia de Havilland
Filmography | Articles | Awards | Downloads | Bibliography | Links | Image Credits | Errol Flynn | Olivia de Havilland
THE ADVENTURES OF ROBIN HOOD (1938)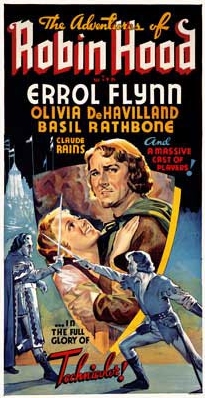 Only the rainbow can duplicate its brilliance!
Studio: Warner Bros.
Director: Michael Curtiz, William Keighley
Producers: Jack L. Warner, Hal Wallis
Writing: screenplay by Norman Reilly Raine and Seton I. Miller, based on a story treatment of ancient English legends by Rowland Leigh
Cast including: Basil Rathbone, Claude Rains, Patric Knowles, Eugene Pallette, Alan Hale, Melville Cooper, Ian Hunter, Una O'Connor, Herbert Mundin, Montagu Love
Music by: Erich Wolfgang Korngold
Music Clips:
"Prelude" (clip) (a .MP3 file courtesy Varese Sarabande).
"Duel, Victory and Epilogue" (clip) (a .MP3 file courtesy Varese Sarabande).
Originally intended as a vehicle for Warner Bros. contract player James Cagney, THE ADVENTURES OF ROBIN HOOD became the third of the eight Flynn-de Havilland pairings when Cagney took a leave of absence from the studio during a contract dispute and, still raking in the profits from CAPTAIN BLOOD (1935), studio head Jack L. Warner decided Errol Flynn was just the man to replace him. Despite the fact that Robin Hood eventually became Flynn's most famous role, and the film one of Warner Bros.' greatest commercial successes, the assignment was a tall order for the new star. First, Flynn had to compete with the memory of silent screen legend Douglas Fairbanks who had thrilled audiences with his abounding charm and virile acrobatic stunts in his 1922 portrayal of the famous outlaw. Second, Warner Bros. staked a large share of its financial future on the film, spending some $2 million on ROBIN HOOD's elaborate production, the most the studio had ever invested in a single film up to that time. Luckily for all involved, everything from the casting and screenplay to the stunts, score and Technicolor cinematography came together under the guidance of producer Hal Wallis to create one of the most spectacular adventure films of all-time.
This page is still under construction.
| | |
| --- | --- |
| | |
| | |
| --- | --- |
| | |
| | |
| --- | --- |
| | |
| | |
| --- | --- |
| | |
| | |
| --- | --- |
| | |