Errol Flynn & Olivia de Havilland
Filmography | Articles | Awards | Downloads | Bibliography | Links | Image Credits | Errol Flynn | Olivia de Havilland
CAPTAIN BLOOD (1935)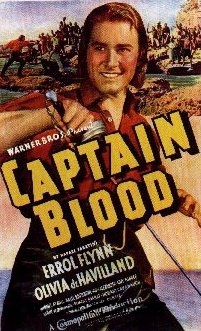 A million dollars worth of adventure!
Studio: Warner Bros.
Director: Michael Curtiz
Producers: Jack L. Warner, Hal Wallis
Writing: screenplay by Casey Robinson, based on the novel Captain Blood: His Odyssey by Rafael Sabatini (1922).
Cast including: Lionel Atwill, Basil Rathbone, Ross Alexander, Guy Kibbee, Henry Stephenson, Robert Barratt, Hobart Cavanaugh, Donald Meek
Music by: Erich Wolfgang Korngold
Music Clips:
"Overture" (clip) (a .MP3 file courtesy RCA Victor).
Novice screen actors newly under contract to Warner Bros., both Errol Flynn and Olivia de Havilland made their Hollywood screen debuts in 1935 -- Flynn as a corpse in the B-grade mystery THE CASE OF THE CURIOUS BRIDE (1935), and de Havilland as Hermia in Warners' lavish adaptation of Shakespeare's fantasy A MIDSUMMER NIGHT'S DREAM (1935). For his services, 25-year-old Flynn was paid a beginning salary of $150-per-week (*1) while 18-year-old de Havilland received $200 for hers.(*2)

Few Hollywood hopefuls could have aspired to as prestigious a film debut as de Havilland's, even if A MIDSUMMER NIGHT'S DREAM did prove to be a noble and artistic box-office flop. On the other hand, after his rather inauspicious beginning, it was clear that Flynn's career had nowhere to go but up. When veteran screen star Robert Donat declined Warner Bros.' offer of another adventure film after his resounding success in THE COUNT OF MONTE CRISTO (1934), studio head Jack Warner made the risky decision to entrust his forthcoming million-dollar adaptation of Rafael Sabatini's pirate tale CAPTAIN BLOOD to two unknowns -- his newest Australian-born bit player and the beautiful, brown-eyed teenager then brightening some of his most mundane programmers.

Filmed in three months during the late summer of 1935, CAPTAIN BLOOD is the story of a seventeenth-century Irish physician, Peter Blood (Flynn), who is wrongfully convicted of treason against England's King James II after being caught tending the wounds of a rebel. Blood and his compatriots (including Ross Alexander and Guy Kibbee) are sentenced to a living death as slaves in the West Indies and shipped off to Port Royal, Jamaica. Upon arrival, they are examined by plantation owner Colonel Bishop (Lionel Atwill) whose favorable standing among the island's citizens gives him first pick of the prisoners. When Blood refuses to open his mouth and allow Bishop to examine his teeth like a horse, the colonel bypasses him, thereby condemning Blood to the island's worst possible place of employment -- the sulfur mines.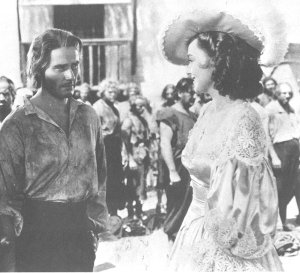 But Bishop's headstrong niece Arabella (de Havilland) is taken with Blood's arrogant defiance of her uncle and rescues him from the mines by purchasing him for the sum of £10. Resentful of being bought by anyone, regardless of motive, Blood is not shy about expressing his displeasure with Arabella's interference. "As it happens, you are hardly in a position to have anything to say about it," she tells him.
Blood toils with his friends under the lash on Bishop's plantation until Arabella arranges a more comfortable assignment for him attending to Port Royal's governor and his gouty foot. Despite Blood's continued scorn, she saves him yet again by providing him with an alibi when he furtively makes arrangements to escape with his friends. This time Blood apologizes for his rude behavior towards her and explains himself, to her obvious delight: "This is interesting. I've had men tell me they had reasons for admiring me. And some few, it came, had reasons for loving me. But for a man to store up reasons for resenting me... How refreshing!" When Blood pushes the boundary of their new friendship by kissing her however, he is soundly slapped and returns his attentions to his escape plans.
In a "timely interruption" of Blood's subsequent flogging at the hands of Colonel Bishop, a Spanish ship attacks and quickly subdues Port Royal, creating the diversion necessary to allow Blood and his friends to escape to their waiting boat. Unfortunately it has been damaged in the battle, and the rebels are forced to find another. They manage to board and overtake the victorious Spanish ship, guarded only by a few drunken pirates. As the rest of the Spanish crew attempts to come to their aid, Blood and his men attack -- "Give 'em a taste of their own iron!" -- thereby rescuing Port Royal from the remaining Spaniards. Colonel Bishop comes aboard to congratulate them and suggests the king might reduce their sentences on account of their heroism. Rather than hang him for his haughty insolence, Blood and his men toss him overboard. "Col. Bishop has a kind heart... but what kind I'd hate to say," Henry Hagthorpe (Kibbee) declares.
With neither home nor country to call their own, Blood and his men become pirates of the Caribbean. "It's the world against us and us against the world," he tells them, authoring a slate of articles governing the behavior of his crew and the equitable division of plunder among them. During a stop in Tortuga -- "where easy money consorted with easy virtue" --, Blood makes the acquaintance of Capt. Levasseur (Basil Rathbone) and partners with the French pirate in a moment of alcohol-induced weak judgment. But when Levasseur kidnaps Arabella and Lord Willoughby (Henry Stephenson), an emissary of the king, from an English ship and attempts to hold them for ransom, Blood intervenes and purchases the prisoners for a handful of pearls. "I don't wish to be bought by you," Arabella protests. "As a lady once said to a slave, 'You are hardly in a position to have anything to say about it," Blood retorts before turning his sword on Levasseur who is as displeased with the transaction as Arabella.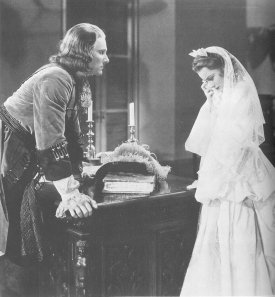 Now his property to do with as he pleases, Arabella condemns Blood's piracy and thievery, disavowing any affection for him. Despite the fact that Colonel Bishop, having become the new governor, has vowed revenge against him, and irrespective of the misgivings of his own crew, Captain Blood sets sail for Port Royal where the English fleet and an uncertain fate await him.
"There's a gallows waiting for each of us at Port Royal, and no man should be late to his own hanging." --Henry Hagthorpe.
Released just after Christmas 1935, CAPTAIN BLOOD proved an enormous success with critics and audiences, ranking among the top 25 money-makers of the year and rocketing Flynn to international movie stardom with a speed almost unparalleled in Hollywood history.(*3) "Handsome! Dashing!," trailers for the film were quick to described him. The movie also brought de Havilland important exposure, and though she did not become the overnight superstar that Flynn became, the "Charming... Talented..." de Havilland proved herself a worthy feminine counterpart to Flynn's heroic bravura.
Flynn and de Havilland did not make the film a success on their own however. Though their contentious romantic scenes are noteworthy and the chemistry between them evident from the start, CAPTAIN BLOOD's real claim to fame is as an adventure film. Making use of both miniatures and footage from the 1924 silent swashbuckler THE SEA HAWK, the effects created by photographers Ernest Haller, Hal Mohr and Fred Jackman, in combination with the brisk pacing of director Michael Curtiz, screenwriter Casey Robinson's literate dialogue, and composer Erich Wolfgang Korngold's Oscar-nominated score, results in an exciting, intelligent film that received an Academy Award nomination as Best Picture of the year (though it lost to MGM's MUTINY ON THE BOUNTY).
Among its weaknesses are some obvious rear-projection shots and painted backgrounds, de Havilland's painfully forced laughter early in the film, and Basil Rathbone's pitiful French accent. That said, Flynn and Rathbone's duel at sword's point (filmed on the beach at Laguna, California) is a worthy predecessor to their more famous bout in THE ADVENTURES OF ROBIN HOOD (1938), and the naval battles and subsequent shipboard pirate melees stand up remarkably well even today. The first (and one of the best) of the eight Flynn-de Havilland pairings, CAPTAIN BLOOD set the stage for a great deal of the adventures yet to come.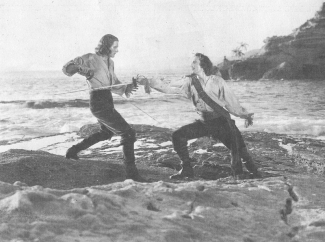 More Memorable Quotations:
"Fate is an uncertain world entirely." --Peter Blood.
"I'm going to have you well by midnight if I have to bleed you to death." --Peter Blood.
"Alright, me hardies. Follow me!" --Peter Blood.
Footnotes:
Go to the next page.
Main Page | 1 | 2 | 3 | 4 | 5 | 6 | 7 | 8