The Sound of Music (1965)
Cast | Crew | Awards | Articles | Dictionary | Bibliography | Downloads | Links | Image Credits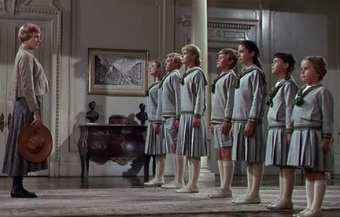 Upon arrival at the Trapp family home, Maria learns that she is the twelfth in a long line of governesses who have come to look after the children since their mother died. In fact, her predecessor lasted only two hours. Her impulsive comments, untidy dress and undisciplined manner leave the captain skeptical that she will fare any better, but he whistles for his children and, standing at attention, they introduce themselves -- formally, at first; less formally later:

Liesl, 16 and without need of a governess; Friedrich, 14 and impossible; Louisa, 13 and an experienced prankster; Kurt, 11 and incorrigible; Brigitta, 10 and an observant fashion critic; Marta, 7 and a fan of pink parasols; Gretl, 5 and always last (because she is the most important).
"Introducing the von Trapp children" (a .MOV file courtesy 20th Century Fox).
Just as Maria begins to feel sorry for the "poor little dears," she discovers the precious gift they left in her pocket and her apprehensions about them are confirmed.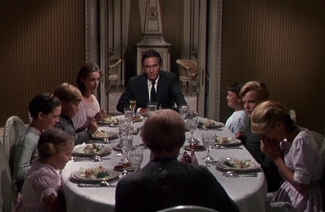 Later that evening, Maria sits down to dinner with the family, where after a short blessing, the new governess soon has her young charges bawling with pangs of guilt that their father prefers to diagnose as indigestion and Maria dismisses as happiness. Although the captain (Christopher Plummer) is first introduced laying down the law to Maria and whistling for his children like animals, it is at the dinner table that the man behind the military demeanor first begins to peek through. He is more preoccupied than uncaring, if deliberately so, and although he appears not to notice when Liesl stealthily departs the dinner table for a rendezvous with Rolfe, the delivery boy, she later learns he was paying more attention than she thought.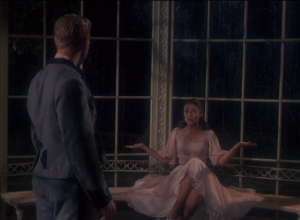 Liesl (Charmian Carr) and Rolfe (Daniel Truhitte), sixteen-going-on-seventeen and seventeen-going-on-eighteen, are only able to meet when Rolfe comes by to deliver telegrams, though he has considered sending Liesl a telegram himself, just so he could deliver it:

"Dear Liesl, I'd like to be able to tell you how I feel about you. STOP. Unfortunately, this wire is already too expensive. Sincerely, Rolfe."

After an admonition to Liesl that the captain should avoid seeming "too Austrian" in the current political climate, Rolfe confesses that she is really the one he worries about:

"You wait, little girl, on an empty stage for fate to turn the light on. Your life, little girl, is an empty page that men will want to write on. You are sixteen-going-on-seventeen. Baby, it's time to think. Better beware. Be canny and careful. Baby, you're on the brink.

"You are sixteen-going-on-seventeen. Fellows will fall in line. Eager young lads and roués and cads will offer you food and wine. Totally unprepared are you to face a world of men. Timid and shy and scared are you of things beyond your ken. You need someone older and wiser telling you what to do. I am seventeen-going-on-eighteen. I'll take care of you."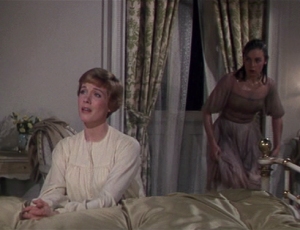 Locked out of the house in a thunderstorm, Liesl climbs in through Maria's window as she is saying her prayers. In one of the first tests of her authority, Maria demonstrates understanding and a willingness to bend the rules when she proposes a little friendly counseling rather than turning Liesl in to her father. The insubordinate teen is quickly won over:

"I told you today I didn't need a governess. Well, maybe I do." --Liesl.

Charmian Carr made her film debut playing 16 year-old Liesl in THE SOUND OF MUSIC, and at age 21, she was the oldest of the actors playing the Von Trapp children by more than seven years. Carr was also the last of the children to be cast, as the producers struggled to find someone who, aside from the obvious talent qualifications, was old enough to work the unrestricted hours disallowed to child actors, yet youthful enough to pass for 16. In 2000, she published a memoir of the making of THE SOUND OF MUSIC (her first and last film) entitled Forever Liesl.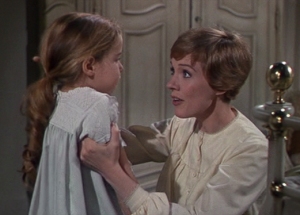 Liesl is soon joined in Maria's room by her siblings who arrive seeking reassurance during the thunderstorm, or ostensibly, to check on Maria and make sure she isn't scared. After a trying first day, the children and their new governess finally bond over a rousing rendition of "My Favorite Things":
"Raindrops on roses and whiskers on kittens. Bright copper kettles and warm woolen mittens. Brown paper packages tied up with strings. These are a few of my favorite things. Cream colored ponies and crisp apple strudel. Door bells and sleigh bells and schnitzel with noodles. Wild geese that fly with the moon on their wings. These are a few of my favorite things. Girls in white dresses with blue satin sashes. Snowflakes that stay on my nose and eyelashes. Silver white winters that melt into springs. These are a few of my favorite things. When the dog bites, when the bee stings, when I'm feeling sad, I simply remember my favorite things, and then I don't feel so bad."
"My Favorite Things" (a .MOV file courtesy 20th Century Fox).
"My Favorite Things" (an .AU file courtesy Rhino Records).
(For help opening the multimedia files, visit the plug-ins page.)
(Watch closely in this scene and you can see young Debbie Turner (Marta) singing along with Julie Andrews during portions of "My Favorite Things.")
Go to the next page.
Main Page | Page 2 | Page 3 | Page 4 | Page 5 | Page 6 | Page 7 | Page 8