All About Eve (1950)
Cast | Crew | Awards | Review | Articles | Bibliography | News | Downloads | Links | Image Credits
One of the best movies ever written and among my all-time favorites, ALL ABOUT EVE (1950) brought Bette Davis "back from the dead" as an actress and became a feather in the cap of everyone involved.
Writer-director Joseph L. Mankiewicz based his script for the film on a short story entitled "The Wisdom of Eve" which appeared in the May 1946 issue of International Cosmopolitan Magazine. And although Fox producer Darryl F. Zanuck favored Marlene Dietrich and Jeanne Crain for the Margo Channing and Eve Harrington characters respectively, Mankiewicz argued for and won Claudette Colbert and Anne Baxter for the two female leads.
Music Clip:
"Main Title" by Alfred Newman, a clip from his Oscar-nominated score for ALL ABOUT EVE (a .MP3 file courtesy RCA Victor).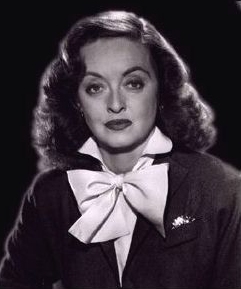 Two weeks before shooting began on April 11, 1950 however, Colbert ruptured a disc in her back while filming THREE CAME HOME (1950) and Zanuck called on Bette Davis to consider the part. Davis had just bought out the remainder of her contract at Warner Bros. after 18 years with the studio, believing, at age 41, that she was washed up in films. She was delighted with the script, agreed to do the picture, and turned in one of the most memorable performances of her career. Besides her signature cigarette smoking and smashing, ALL ABOUT EVE also showcased another Bette Davis trademark, her willingness to appear unattractive in scenes when the story demanded (as seen in the still below).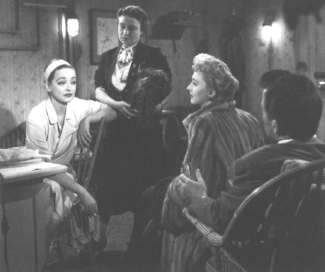 More than just a fantastic script and excellent star performances, ALL ABOUT EVE also showcases a number of first-rate actors and actresses in supporting roles, including Thelma Ritter as Birdie, Margo's housekeeper and confidant, and Celeste Holm as Karen Richards, Margo's best friend (both shown at right with Bette Davis and Hugh Marlowe in a scene in Margo's dressing room). Ritter and Holm both received Oscar nominations for their outstanding efforts, but lost to Josephine Hull and her performance in HARVEY (1950).
Memorable Quotations:
"Where were we going that night, Lloyd and I? Funny, the things you remember and the things you don't." --Karen Richards.
"Heaven help me. I love a psychotic!" --Margo Channing.
"I'm a junkyard." --Margo Channing.
"The theatuh, the theatuh -- what book of rules says the theater exists only within some ugly buildings crowded into one square mile of New York City?" --Bill Sampson.
"You're not much of a bargain, you know. You're conceited and thoughtless and messy." --Margo Channing (a .WAV file).
"Remind me to tell you about the time I looked into the heart of an artichoke." --Margo Channing.
"I'm so happy you're happy." --Margo Channing.
"Fasten your seatbelts. It's going to be a bumpy night." --Margo Channing (a .WAV file).
"Everybody has a heart, except some people." --Margo Channing.
"Bill's thirty-two. He looks thirty-two. He looked it five years ago. He'll look it twenty years from now. I hate men." --Margo Channing.
"We're a breed apart. We're the original displaced persons." --Addison DeWitt.
(For help opening the above file, visit the plug-ins page.)