Paul Newman
Biography | Filmography | Awards | Downloads | Links | Image Credits
Page 2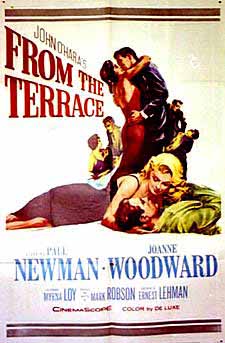 FROM THE TERRACE (1960) was Newman and Woodward's second film together and told the story of a young war veteran's rise to social and financial success. Incidentally, it also featured Myrna Loy.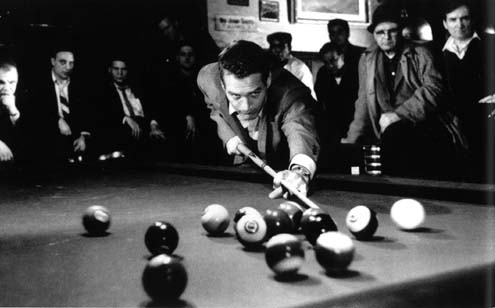 A still from from one of his most famous movies, THE HUSTLER (1961) with Jackie Gleason. For his role as Fast Eddie Felson, a cocky young pool player who takes on the legendary Minnesota Fats (Gleason) for serious money, Newman was trained by pool pro Willie Mosconi for Fast Eddie's close-up shots, and Mosconi himself made the trick shots in the film.
Newman received a Best Actor nomination for his performance in THE HUSTLER and became and overnight superstar. Though he lost the 1961 Oscar to Maximilian Schell for JUDGMENT AT NUREMBERG (1961), Newman would later win the Academy Award twenty-five years later for reprising his "Fast Eddie" role in Martin Scorsese's THE COLOR OF MONEY (1986) opposite Tom Cruise. THE HUSTLER itself was nominated for nine Oscars in 1961, including Best Picture, and though it lost the big prize to WEST SIDE STORY, cinematographer Eugen Schüfftan took home an Oscar for his atmospheric black-and-white photography.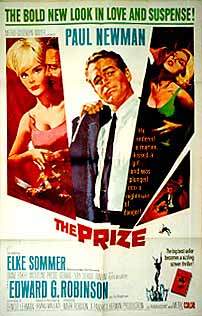 A poster from THE PRIZE (1963), a spy drama in which Newman starred with Elke Sommer and Edward G. Robinson.