Robert Mitchum
Awards | Downloads | Image Credits
Page 2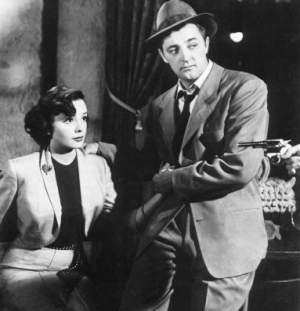 A still with Jane Greer from the fast-paced action adventure THE BIG STEAL (1949).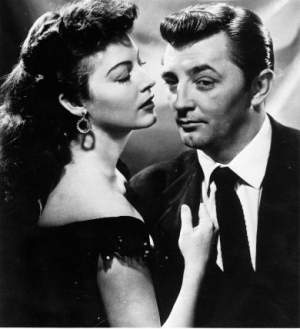 A publicity still for MY FORBIDDEN PAST (1951) with Ava Gardner.
Memorable Quotations:
"I haven't felt better since I been off a horse." --as Bill Tabeshaw in TILL THE END OF TIME (1946).
"How big a chump can you get to be? I was finding out." --as Jeff Bailey in OUT OF THE PAST.
"I'm too young to die. How about you?" --as Dan Milner in HIS KIND OF WOMAN (1951).
"It's quite simple really. I'm just not very good at resisting temptation." --as Charles Delacro in THE GRASS IS GREENER (1960).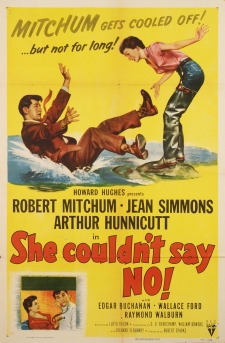 Having proved himself in numerous film dramas and crime thrillers, Robert Mitchum also made a few successful forays into the romantic comedy genre in the 1950s and '60s, among them SHE COULDN'T SAY NO (1953) opposite Jean Simmons and THE GRASS IS GREENER (1960), a charming drawing-room comedy co-starring Simmons, Deborah Kerr and Cary Grant.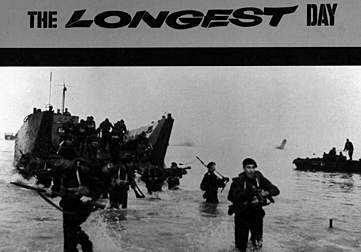 A poster from the Academy Award-winning, star-studded story of the D-Day invasion of Normandy, Darryl F. Zanuck's THE LONGEST DAY (1962). Mitchum played Brig. Gen. Norman Cota in this Best Picture nominee which also featured John Wayne, Henry Fonda, Roddy McDowall, Richard Burton, Sean Connery, Peter Lawford, Mel Ferrer, and Sal Mineo.
Further Reading:
Robert Mitchum: "baby, I don't care" by Lee Server (New York : St. Martin's Press, 2001).
Mitchum: in his own words: interviews with Robert Mitchum by Charles Champlin ... [et al.]; edited by Jerry Roberts; foreword by Roger Ebert (New York: Limelight Editions, 2000).
The films of Robert Mitchum by Alvin H. Marill; foreword by Deborah Kerr (Secaucus, NJ: Carol Pub. Group, 1995).
Robert Mitchum: a bio-bibliography by Jerry Roberts (Westport, Conn.: Greenwood Press, 1992).
Them ornery Mitchum boys : the adventures of Robert and John Mitchum by John Mitchum; edited and designed by John Stanley (Pacifica, CA: Creatures At Large, c1989).
Robert Mitchum by David Downing (London : W.H. Allen, c1985).
Robert Mitchum: a biography by George Eells (New York : F. Watts, 1984).
Robert Mitchum on the screen by Alvin H. Marill (South Brunswick, NJ: A. S. Barnes, c1978).
Robert Mitchum by John Belton; general editor, Ted Sennett (New York: Pyramid Publications, 1976).
The Robert Mitchum story: "It sure beats working" by Mike Tomkies (London: W. H. Allen, 1972).
Bad boys: the actors of film noir by Karen Burroughs Hannsberry (Jefferson, N.C.: Farland, 2003).
The Tough Guys by James Robert Parish (New Rochelle, N.Y.: Arlington House Publishers, c1976).
More Mitchum related links:
Page 1 | Page 2
Awards | Downloads | Image Credits