The Marx Brothers
Filmography | Article | Awards | Downloads | Links | Image Credits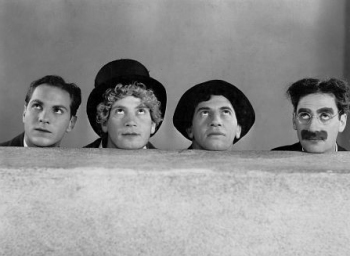 Zeppo, Harpo, Chico and Groucho Marx.
One of the silver screen's zaniest comic teams, the four Marx Brothers cultivated their chaotic comic skills on the vaudeville and Broadway stage in the 1920s before making more than a dozen film comedies primarily for Paramount and MGM in the 1930s and '40s.
Though often lacking a coherent or even comprehensible plotline, the Marx Brothers' movies combine chaotic physical comedy and sight gags with merry melodies and frequently irreverent (even risqué) dialogue to create a comic cinematic experience that is one of a kind. Their films were not the most financially successful comedies ever made, nor did the brothers enjoy the more widespread appeal of more sedate comedians, but their screen antics earned them an honorary Oscar in 1974 (presented to Groucho after the deaths of Harpo and Chico) and provide a unique insight into the brand of vaudeville humor that reigned supreme in the United States in the years before talking pictures.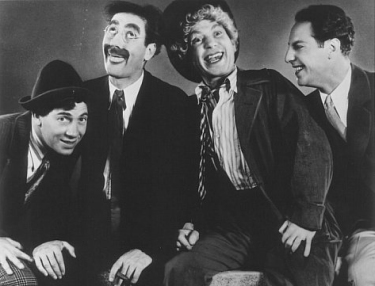 The Marx Brothers (left to right): Chico (Leonard), Groucho (Julius), Harpo (Adolph), and Zeppo (Herbert) -- a fifth brother, Gummo (Milton), left the act before it came to Hollywood but later became a talent agent.
This section is still under construction.
Filmography | Article | Awards | Downloads | Links | Image Credits