It's a Wonderful Life (1946)
Cast | Crew | Awards | Articles | Lyrics | Bibliography | Downloads | Links | Image Credits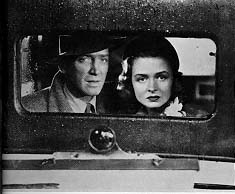 The real trouble starts: George and Mary watch a run on the bank out the rear window of Ernie's Taxi. They give up their honeymoon to save the Building and Loan.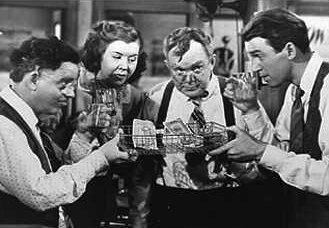 All's well for the time being at the Bailey Bros. Building and Loan Association, and its employees -- Eustace (Charles Williams), Tilly (Mary Treen), Uncle Billy and George -- celebrate:
"A toast! A toast to Papa Dollar and to Mama Dollar, and if you want the old Building and Loan to stay in business, you better have a family real quick." --George.
More Memorable Quotations:
"I wish I had a million dollars ... Hot dog!" --George.
"You sit around here and you spin your little webs and you think the whole world revolves around you and your money! Well, it doesn't, Mr. Potter! In the... In the whole vast configuration of things, I'd say you were nothing but a scurvy little spider!" --George (a .WAV file).
"Just remember this, Mr. Potter, that this rabble you're talking about. They do most of the working and paying and living and dying in this community. Well, is it too much to have them work and pay and live and die in a couple of decent rooms and a bath? Anyway, my father didn't think so. People were human beings to him, but to you, a warped, frustrated old man, they're cattle. Well, in my book, he died a much richer man than you'll ever be." --George.
"Bread -- that this house may never know hunger. Salt -- that life may always have flavor." --Mary. "Wine -- that joy and prosperity may reign forever." --George.
(For help opening any of the multimedia files, visit the plug-ins page.)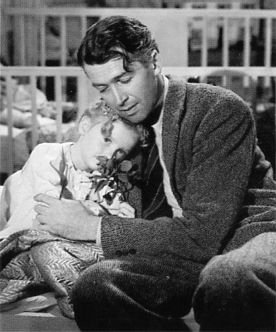 George goes home and comforts Zuzu and her flower:
"All right, all right. Here, give Daddy the flower. I'll give it a drink." --George.
Karolyn Grimes' brief career as a child actress included roles in such prestigious films as BLUE SKIES (1946), THE BISHOP'S WIFE (1946) and RIO GRANDE (1950), but as with many of the film's performers, it is for her role as Zuzu in IT'S A WONDERFUL LIFE that she is best remembered.