The Quiet Man (1952)
Cast | Crew | Awards | Articles | Lyrics | Gallery | Bibliography | News | Downloads | Links | Image Credits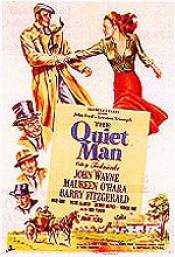 Almost twenty years in the making, THE QUIET MAN (1952) is perhaps the most personal film of director John Ford's long and illustrious Hollywood career as well as one of his great achievements. Unburdened with messages or social commentary, the film is a simple tale of human relationships, colored by Ford's ever-present nostalgia about his Irish heritage and peopled by a group of actors whose personal chemistry contributes such warmth and vitality to their relationships, it is clear their characters emanate from something deeper than a film script. Humorous, romantic, lively, endearing and lovingly photographed on location in Ireland, THE QUIET MAN is cinematic story-telling at its finest -- transparent, unpretentious and beautiful.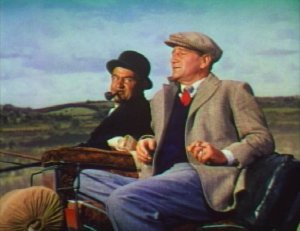 "A fine, soft day in the spring it was when the train pulled into Castletown -- three hours late, as usual -- and himself got off." Sean Thornton, that is (John Wayne). On the five-mile ride to Inisfree, nosy Micheleen Flynn (Barry Fitzgerald) tries to discover what has brought the tall Yankee to Ireland. He soon learns that though Sean grew up in America, he was born in Inisfree and has returned to settle in the town of his birth.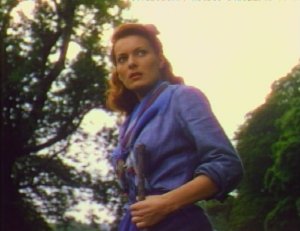 No sooner does Sean arrive in Inisfree, than he sees Mary Kate Danaher (Maureen O'Hara) shepherding her brother's sheep across the countryside, her red hair and petticoats exclaiming her presence from amongst the lush green fields and trees. "Is that real? She couldn't be," Sean declares to Micheleen (the local cabbie, bookmaker and matchmaker) who, against his own business interests, advises Sean to forget about her.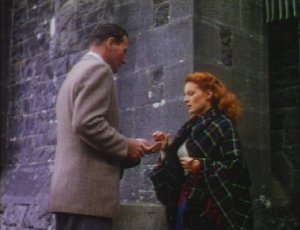 Sean is not easily discouraged however, and the next morning after Mass, he bids Mary Kate good morning -- and is quickly reprimanded: "None of that now! None of that. It's a bold sinful man you are, Sean Thornton. And who taught you to be playing patty fingers in the holy water?" Micheleen also has a few choice words to say about Mary Kate: "Her with the freckles and her temper. Oh, that red head of hers is no lie."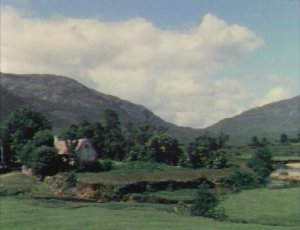 Sean's real purpose in coming to Inisfree however is to buy back White O'Morn, the small thatched cottage where he and seven generations of Thorntons were born. As he makes his case before the current owner, the Widow Tillane (Mildred Natwick, below), Sean explains: "Ever since I was a kid living in a shack near the slag heaps, my mother's told me about Inisfree and White O'Morn. Inisfree has become another word for heaven to me."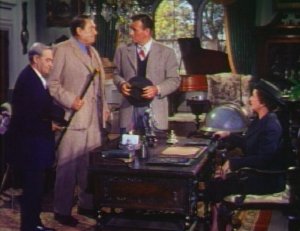 Although the widow is not altogether moved by Sean's sentiment, an interruption by Mary Kate's brother 'Red' Will Danaher (Victor McLaglen, second from right) who owns the neighboring property and has a floundering romantic relationship with Mrs. Tillane, soon leads to a bidding war which the "millionaire" Yank easily wins. Sean has his ancestral lands but has made a devoted enemy in Will Danaher.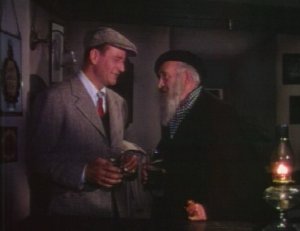 At Cohan's, the local pub, Dan Tobin (played by Francis Ford, John Ford's brother, at left) reminisces about Sean's father and grandfather (loyal Irish Republicans) and leads the men of Inisfree in bidding Sean welcome home. Sean buys a round of drinks, and the men break into a chorus of "Wild Colonial Boy" (led by Ken Curtis, accordionist and lead singer for the western musical group The Sons of the Pioneers).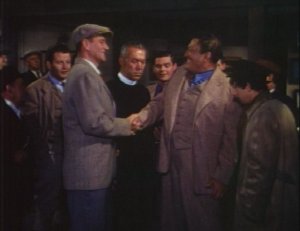 Will Danaher arrives at the pub however, and has no intention of being so cordial. He warns Sean to stay off his property and away from his sister, then challenges him to a fight when Sean denies he took liberties with Mary Kate after mass. Sean refuses to fight, and Fr. Lonergan (Ward Bond) forces the two men to shake hands -- an act which becomes a small fisticuffs: "'S a good grip you have, Danaher. I always hated a flabby handshake myself."