Peter O'Toole
Filmography | Awards | Article | Lyrics | News | Links | Downloads | Image Credits | LAWRENCE OF ARABIA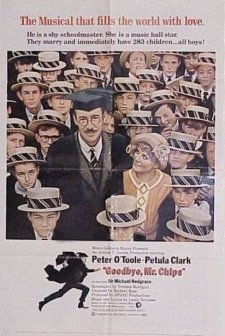 In 1969, O'Toole co-starred opposite former-child-actress-turned-pop-music-star Petula Clark in a musical remake of GOODBYE, MR. CHIPS, based on James Hilton's novel about a shy, English Latin teacher who falls in love with a gregarious young woman -- a showgirl, in this musicalization of the story. Featuring songs by Leslie Bricusse, the film as a whole was not as well received as O'Toole's performance which earned him his fourth Academy Award nomination. In addition to the plaudits he received for his acting, O'Toole's singing in this, his movie musical debut, was also deemed adequate -- quite an accomplishment alongside the professional vocalist behind such 1960s hit songs as "Downtown" and "I Know a Place."
More Memorable Quotations:
"Hell has not seen, nor heaven created, the one who can prevail against me!" --as Don Quixote de la Mancha in MAN OF LA MANCHA (1972).
"'Life as it is.' I have lived for over forty years and I've seen 'life as it is'. Pain. Misery. Cruelty beyond belief. I've heard all the voices of God's noblest creature -- moans from bundles of filth in the street. I've been a soldier and a slave. I've seen my comrades fall in battle or die more slowly under the lash in Africa. I've held them at the last moment. These were men who saw 'life as it is,' but they died despairing. No glory. No bray of last words. Only their eyes, filled with confusion, questioning, 'Why?' I do not think they were asking why they were dying, but why they had ever lived. When life itself seems lunatic, who knows where madness lies? Perhaps to be too practical is madness. To surrender dreams, this may be madness. To seek treasure where there is only trash. Too much sanity may be madness. But maddest of all -- to see life as it is, and not as it should be!" --as Miguel de Cervantes in MAN OF LA MANCHA (1972) (a .MP3 file).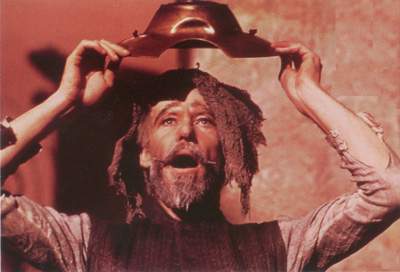 Based on a successful stage play by Dale Wasserman, MAN OF LA MANCHA (1972) fell victim to the declining popularity of film musicals in the early 1970s and floundered at the box office despite a beautiful score and fine performances by O'Toole and Italian actress Sophia Loren. Nonetheless, O'Toole's rendition of "The Impossible Dream" remains one of the most memorable moments of his screen career.
Music Clip from MAN OF LA MANCHA (1972):
"The Impossible Dream" (a .MP3 file courtesy MGM).
(For help opening any of the multimedia files, visit the plug-ins page.)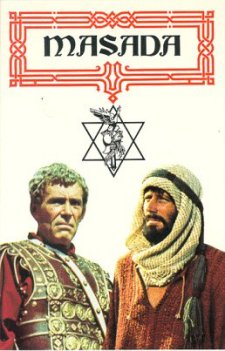 After a professionally and personally disappointing decade during which the negative effects of several film flops were exacerbated by health problems and alcoholism, O'Toole began to reemerge in the early 1980s. He regained his footing in the film business with an Oscar nomination for THE STUNT MAN (1980) in which he plays a dictatorial movie director. He then followed this success with another, playing a Roman general sent to besiege the mountaintop stronghold of a group of Jewish Zealots in the small screen epic MASADA (1981 TV), a six-hour American mini-series co-starring Peter Strauss.
Music Clip from MASADA:

"Masada" (clip) by Jerry Goldsmith (a .MP3 file).
Still More Memorable Quotations:
"Stand still! . . . if you're happy with your face the way it is." --as Flavius Silva in MASADA (TV 1981).
"The victory? We have won a rock in the middle of a wasteland on the shore of a poison sea." --as Flavius Silva in MASADA (TV 1981).
"Damn you! I'm not an actor, I'm a movie star!" --as Alan Swann in MY FAVORITE YEAR (1982) (a .WAV file).
"Dying is easy. Comedy is hard." --as Alan Swann in MY FAVORITE YEAR (1982).
"Ladies are unwell. Gentlemen vomit." --as Alan Swann in MY FAVORITE YEAR (1982).
"You can depend on Alan Swann. He will always let you down." --as Alan Swann in MY FAVORITE YEAR (1982).
"If you cannot say what you mean, your majesty, you will never mean what you say, and a gentleman should always mean what he says." --as Reginal Flemming Johnston in THE LAST EMPEROR (1987).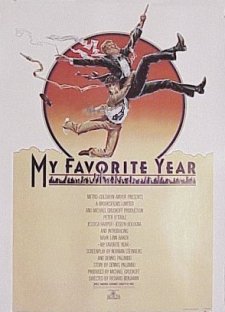 In 1982, O'Toole earned his seventh Academy Award nomination for MY FAVORITE YEAR, a comedy about an aging matinee idol scheduled to appear on a variety show in the early days of television (the 1950s). Though obviously based on swashbuckling hero-turned-lush Errol Flynn, O'Toole's character, Alan Swann, also bore a certain resemblance to O'Toole himself and the performance turned out to be one of the best of his career. The film's sole Oscar nominee, O'Toole came up empty for a seventh time, making him the most nominated actor never to win an Academy Award.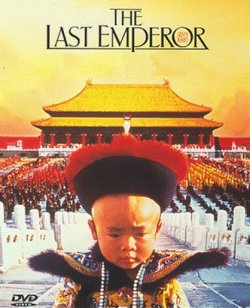 Also of note, O'Toole lent his talents to the THE LAST EMPEROR which won nine Academy Awards in 1987 including the Oscar for Best Picture of the year. The first feature film to be shot inside the walls of the Forbidden City (the imperial Chinese palace in Beijing) and the first western film since 1949 to be made in cooperation with the Chinese government, THE LAST EMPEROR traces the turbulent history of China during the 20th Century through a lavish production, including authentic sets, historical costumes and thousands of extras. Though more the story of a nation than of its central character (whose English tutor, Reginald Fleming Johnston, O'Toole plays), THE LAST EMPEROR is still a spectacle to be seen.
Further Reading:
Loitering with Intent by Peter O'Toole (New York: Hyperion, c1992).
Public places: my life in the theater, with Peter O'Toole and beyond by Siān Phillips (London: Hodder & Stoughton, c2001; New York: Faber and Faber, 2003).
Peter O'Toole: a biography by Nicholas Wapshott (Sevenoaks, Kent: New English Library, 1983).
Peter O'Toole: a biography by Michael Freedland (New York: St. Martin's Press, c1982).
Page 1 | Page 2
Filmography | Awards | Article | Lyrics | News | Links | Downloads | Image Credits | LAWRENCE OF ARABIA